Web page ©Cameron Cunningham
All graphics &copy: Val Biro and used with his permission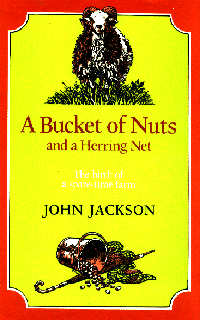 A BUCKET OF NUTS AND A HERRING NET
JOHN JACKSON, 1979.
Published by Collins and Harvill Press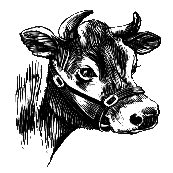 Hello again. I am glad you decided to visit this page.
This, I think, is one of the books that really shows Val's artistic skills at their best.
His wonderful pictures of the buildings and the animals simply bring the story alive.
THE STORY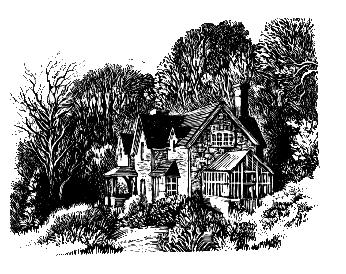 The author describes what happened after he and his family moved from London to Kent. The small collection of pets that came with them expanded innocently enough, but an unusual start with chickens soon progressed into an adventurous involvement with bullocks, cows, sheep, goats, and other farm stock, largely kept on land borrowed from neighbours on a 'barter basis'.
Built on a ridge that overlooks the Wealds of Kent and Sussex, there are few buildings nearby because of the condition of the ground. The clay and the springs undermine foundations and buildings have a tendency to slip down the hill.
The Jackson's house was one of the few in the area and, with no foundations, it has leaned about two inches in seven feet since the original part was built about 1820. The rest of the house was built at five different times and each leans in its own way.
Gradually, by trial and much error, the Jacksons became competent in food production and various country crafts. Part of the interest of the book derives from the fact that all this was achieved in the family's spare time and only the occasional help of hired labour.
EXAMPLES OF VAL'S ILLUSTRATIONS FOR THE BOOK
<!Page - link!>
Click on my picture to return to 'Author Links'

Alternatively
Click on Gumdrop to return to Val's 'Homepage Links'