Web page ©Cameron Cunningham
All graphics &copy: Val Biro and used with his permission
EARLY GUMDROP STORIES
How it all started

"Hello again dear reader. Last night I quietly crept into Gumdrop's garage and we talked for ages and ages about how the two of us came to meet Mr Oldcastle. In the following two stories I will tell you all about it."
SYNOPSIS WITH APPROVAL OF VAL BIRO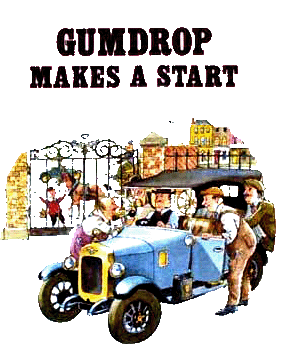 Many, many years ago, after school, a little boy of seven used to watch the workmen through the gates of the Austin Motor Company. One wonderful day he saw a beautiful, brand new car and recognised it as a blue, Austin Heavy 12/4. " That's the car for me" he said and the men laughed.

That car was, of course, Gumdrop and he had just been built.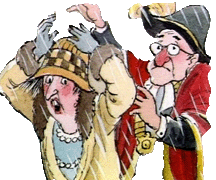 A few weeks later Gumdrop was was sitting in the showroom when the Lady Mayoress came in " I want a car in which I will look my best" she said. So she bought Gumdrop. Later that year Gumdrop appeared in the Lord Mayor's Procession and, unfortunately, it rained. The Lady Mayoress was riding in the back seat with the roof down and her new hat was ruined. This annoyed her so much that she sold Gumdrop.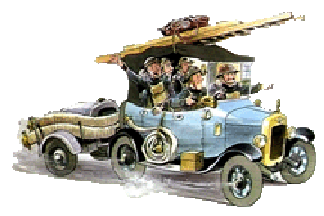 After that Gumdrop was bought by Mr. and Mrs. Septimus Bunch and their family. For many years they used him every day for school, holidays, picnics and seaside visits until the children were too big to all fit in the car. Gumdrop was then sold to a fireman called Freddie Bracegirdle and, when all the fire engines were in use, Gumdrop was used to fight fires. Eventually they bought new fire engines and Gumdrop was no longer required so he was sold once again.

His next owner was the grocer, Mr Peabody Parsnip, and he used Gumdrop to deliver his orders. By this time,however, Gumdrop was beginning to look old and shabby and he was known as 'The Old Crock' or 'The Heap'. Mr Peabody Parsnip began to think that it was
not the right image for his business so he bought a new van and sold Gumdrop to Farmer Clodberry.

Gumdrop was used to carry hay and logs and every Saturday Mr. Clodberry's nephew learned to drive round and round the meadow. Gumdrop became so old, saggy and rusty from his years of use that he was eventually abandoned in an old barn on the farm.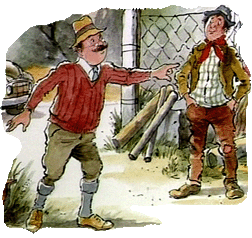 One day a scrap dealer, Charlie Mead, came to the farm and bought sad, old Gumdrop and took him to his scrapyard. The very next day a man came into the scrap dealer's yard, spotted the old car, and said "That's an Austin Heavy 12/4 and I bet it is blue under all that dirt". " It's the one I remember as a small boy".

It was Mr Josiah Oldcastle. Long ago he was that seven year old boy and he had dreamt about owning Gumdrop all those years. With a new battery, oil, petrol and water Gumdrop started first time." This is my old Gumdrop" he said as he paid Charlie. With a grateful wave he drove off.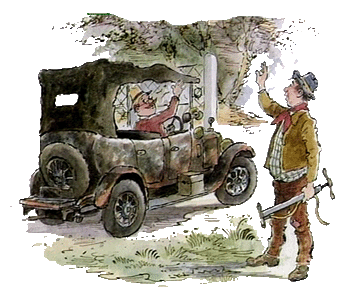 And that, dear reader, is the story Gumdrop told me last night. <!Page - link!>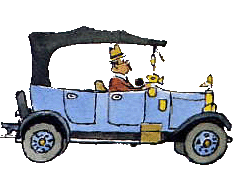 Click on the picture of Gumdrop to read how I met Gumdrop and Mr Oldcastle