Click to subscribe to nigel-tranter-books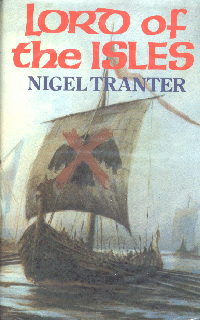 LORD OF THE ISLES
© Nigel Tranter
Published by Hodder and Stoughton, 1983,
ISBN 0 340 28509 5
The action of this book is set Circa 1131 to Circa 1164

The text of this synopsis is from the bookjacket.
The style of Lord of the Isles has endured for over eight hundred years and is borne today by the heir to the united thrones of Scotland and England. Successive holders of the title cut a wide swathe in history down the generations. This is a story of the man who established the title with the power of his sword arm, his dragon fleet and his sheer personality.
Somerled Norse Slayer, Somerled the Mighty, King of Argyll and Lord of the Isles. Of semi- royal Celtic descent with a Norse mother, Somerled took up the pieces of his father's shattered Thanedom of Argyll and enlarged it by courage, initiative, military shrewdness and diplomacy.
For decades his navy held the balance of power in the northern seas, and it was he who cleared the Vikings out of the Hebrides.
The backcloth to Somerled's story is that most romantically celebrated and beautiful part of Scotland, the West Highlands and Western Isles. Nigel Tranter knows his country well in all weathers and writes with a real understanding of the the terrain over which his hero presses, and the hidden bays, sandbars or skerries of its coastline from Dunvegan Head to the Mull of Kintyre with the wealth of islands between.
Somerled's long ships so took him to Man,weakly held by Olaf Morsel. The winning of Olaf''s daughter was to require a ploy as devious as any employed on the field of battle. His willing vassalage to one King of Scots took him on an ill-fated army of invasion into England, his withholding of support for that King's successor was to cost him dear.
It requires the pen of a novelist like Nigel Tranter to do proper justice to this twelfth-century giant of a man who lives through Scottish legend, and who was the progenitor of the great clans of MacAllister, MacDonnell, MacDougal and Mac Donald.
Lord of the Isles celebrates him worthily

RETURN VIA BACK BUTTON