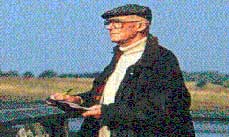 ©Cameron Cunningham 2000

<!My Letter !>
Welcome to 'Tranter On-line'.
NOTE
MANY SIGNED, FIRST EDITION,
TRANTER BOOKS FOR SALE
<!e-mail!>
Not so much a web page - more a Tranter archive

Nigel was well qualified to be known as Scotland's Storyteller.
From 1935 to 2000 he wrote about 140 books. Although most widely known for his famous Scottish historical Novels he also wrote factual books about Scotland and the Scots, novels set in Scotland, and other countries, westerns, under a pseudonym, and a series of books for children.
It was a privelege and a pleasure for Helen and I to know him and, when he died on the 9th of January 2000 aged 90 years, I wanted to create a memorial to encapsulate the world-wide love and respect that people have for both the man and his work.
Hopefully these pages go some way to meeting these requirements and will also help to inform readers about his books or, hopefully, to introduce them to new readers.
Over the years 'Tranter On-line' has grown to become an archive that provides the most complete detail and timeline of Nigel's literary work on the internet and also gives access to the 'Tranter Chat Group' which, daily,links Tranter enthusiasts worldwide.
Enjoy browsing,
Cameron

A SAMPLE OF WHAT YOU WILL FIND ON
THE TRANTER WEB SITE
1. A detailed timeline of all Nigel's books from 1935-2005
2. A dated timeline of his historical novels
3. Access to the Tranter Chat Group
4. A photographic'Rogues Gallery' of worldwide list members.
5. Text and pictures of the many'Tranter Gatherings
6. An illustrated diary of Toby's Tranter Weekend
7. A 1999 Letter from Nigel to his online readers
8. Information about his unique method of writing as, daily, he walked the shore of Abelady bay
9. Details of buying and collecting Nigel's books
10. The influence Scottish castles had on his life and writing.
11. Pictures and text about 'Tranter Country' in East Lothian and elsewhere
12. Details of the opening of the Tranter Centre at Lennoxlove and its replacement 'The Tranter Exhibition'.
13. Research papers by our list members

LINK
TO NIGEL TRANTER GROUP CHAT
Please take a moment to sign our guestbook below.
It is great to know who is visiting.

NOW YOU HAVE THREE CHOICES
1. GO TO THE MAIN 'LINKS PAGE' VIA
NIGEL'S 1999 LETTER TO HIS READERS.

OR
2.GO STRAIGHT TO THE MAIN 'LINKS PAGE'
NOTE
From this link you can navigate throughout the web site

OR
3. USE THE DIRECT LINK TO THE
DETAILED TIMELINE OF ALL NIGEL'S BOOKS
1935-2005


E-MAIL IF YOU HAVE ANY QUESTIONS
<!e-mail!>
PLEASE COMMENT IN THE TRANTER GUESTBOOK
CLICK HERE

TO LEAVE GUESTBOOK COMMENTS
SCOTTISH NORWEGIAN SOCIETY GLASGOW