Click to subscribe to nigel-tranter-books
MAKER'S COURT DEDICATION TO NIGEL
6th October 2005
Photographs and text by Colin Mills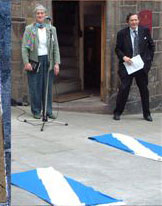 Valerie Gillies and Mr Couts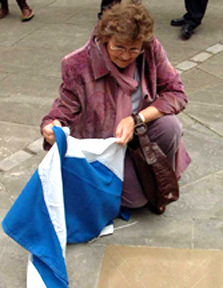 Frances May unveiling the stone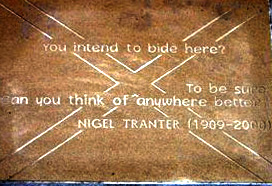 The stone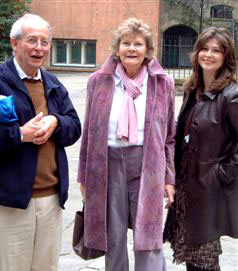 The Baker Family
"Yesterday was one of celebration.
In Makars' Court, outside The Writers' Museum and within Lady Stair's Close of the Royal mile in Edinburgh, a stone was dedicated to the memory of Nigel. At the same ceremony a stone was dedicated to the memory of George Mackay Brown the celebrated Orkney poet.
The dedication ceremony began with an introductory speech by Mr Herbert Couts, the Director of Culture and Leisure for Edinburgh City Council, who explained the purpose of having an area dedicated to past famous Scottish writers, the equivalent of Poets' Corner in Westminster Abbey, and welcoming Past-Edinburgh Makars at the ceremony.
An Edinburgh Makar is a living writer/poet equivalent to the Poet Laureate. Mr Couts then invited Valerie Gillies, the present Edinburgh Makar to say a few words.
She firstly spoke about Nigel, what he had done in promoting Scotland and Scottish history abut also of his involvement as a Past-President of Scottish Pen and his encouragement of younger writers; this was followed by her speaking about George Mackay Brown and his contribution to Scottish poetry, following this by reading one of his poems (it being National Poetry Day).
Mr Couts then invited Nigel's daughter Frances-May Baker to unveil the stone dedicated to her father that was covered by a saltire flag. having done this Frances-May then read the quotation from the stone: "You intend to bide here? To be sure. Can you think of anywhere better." a similar unveiling was then made by George's literary executor.
The gathered throng was then invited in to the Writers' Museum for refreshments. Meanwhile Frances-May was being photographed re-unveiling the stone and being interviewed by BBC Television, The Scotsman, The Herald and other local newspapers.
Eileen and I together with Dot Cumberland were there as members of Nigel's fan-club and Frances-May had Robert, her husband, and Robin, their youngest daughter, with her. We also met a gentleman who was a friend of Nigel, they both having been involved with the Saltire Society (Nigel was one time its president).
The whole meeting lasted about an hour but it was worthwhile us travelling from Arran and Dot from Dundee to be part of a very important occasion."
RETURN TO NIGEL TRANTER'S