An opportunity to own a very rare Western by Nigel.
As all list-members will know, Nye Tredgold titles are virtually impossible to obtain. I was fortunate to obtain more than one copy of this title and feel that this is what I would like to do with it.
ALL PROCEEDS WILL GO TO A CHARITY THAT HELEN AND I SUPPORT NAMELY;
CHILDREN'S HOSPICE ASSOCIATION SCOTLAND.
TO FIND OUT ABOUT THEIR WORK PLEASE VISIT THEIR WEB PAGE.

TRAIL HERD
By Nye Tredgold
This is a paperback version.
Published in 1952 in hardback, by Ward Lock the paperback was published the same year.

DESCRIPTION
The covers have scuff marks on both front and back.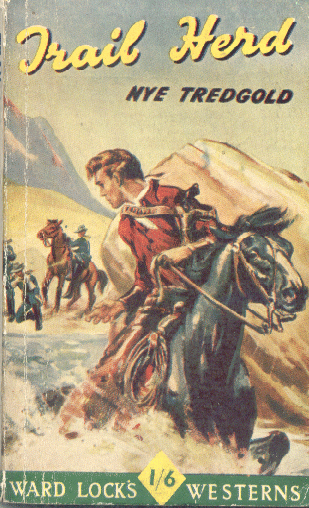 The spine is slightly twisted and marked. There is also a small tear just below the words 'Ward Lock'.

The pages are slightly brown. For its age, however, it is in good condition.
AS AT 7.00 p.m. ON SATURDAY 1st JUNE THE PRICE IS.
85 GBPs
AS AT 8.00 a.m. ON SUNDAY 2nd JUNE THE PRICE IS.
91 GBPs
AS AT 9.00 a.m. ON SUNDAY 2nd JUNE THE PRICE IS.
95 GBPs
AS AT 11.30 a.m. ON SUNDAY 2nd JUNE THE PRICE IS.
97 GBPs
NOW CLOSED. THE AUCTION IS OVER.
I will notify the successful person by e-mail.
Thank you all for your support for this very worthy cause.
<!e-mail!>