Click to subscribe to nigel-tranter-books
SAN DIEGO SCOTTISH HIGHLAND GAMES
2004
Hi, Cameron--
As requested, here are pictures from the San Diego Scottish Highland Games this past weekend.
The Games Committee went to GREAT EXPENSE to import authentic Scottish weather on Saturday, which charmed all the visitors. (Read: It was drizzling all day. San Diego weather--contrary to what you hear, is overcast most of the time from mid-April through July, but it's usually hot and sunny on the Games weekend. I think this is the first time it actually was WET in its entire 31-year history.)
I'm afraid I seldom thought of the camera; I only pulled it out twice--once to get a photo of my clan tent for my clan organization newsletter, and once at the end of Saturday when the pipe bands were coming to Closing Ceremonies. They, each individual band (and we had fourteen!) march a great semicircle through the vendors, and then through the clans and then to the field next to the main stage where the massed bands play "Highland Laddie" to the Chieftain, "Amazing Grace", and then finish with "Scotland the Brave".
We had a good time despite the rain; my daughter, Tara, sang the "Star Spangled Banner" (two verses!) and all four verses of "Flower of Scotland", to huge enthusiasm (it's been my experience that most attendees are very patriotic Americans), and of course my chest burst with pride. She also sang for the Kirkin' of the Tartan Sunday service, as did my madrigal group.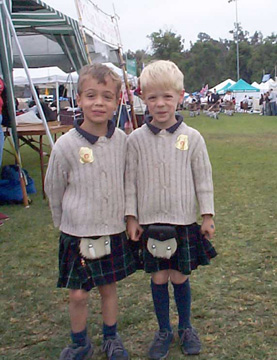 One of the photos is of my twins as one pipe band approaches in the distance, and another is of a band as it enters the Glen of the Clans. We found Abernethy Biscuits, a hard-to-get delicacy, on sale and bought half the supply. The boys got over to watch the sheepdog herding, but I missed the drum major competition, one of my favorites, and the whisky tasting as well (DARN!), though there was lots being tasted in the Glen of the Clans.

I was just too busy keeping all 65 clans from feuding. I always put the Donalds next to the Campbells and had put the MacKays next to the Sutherlands without thinking. (Oops.) Actually, the Campbells and Donalds are great friends; the Campbells had a clan picnic once that was raided by the Donalds shooting squirt guns.

Susan Abernethy
RETURN TO NIGEL TRANTER'S