TRANTER GATHERING

Held at Dirleton on the 13th August 2000

Move curser over Nigel's drawings of Luffness Castle when page is fully loaded.
---
AROUND TRANTER COUNTRY (2)
Nigel's 'Enchanted' Terrain Part II
Once again our thanks are due to Toby Andersson for the use of his photographs.
---
Gullane from the west.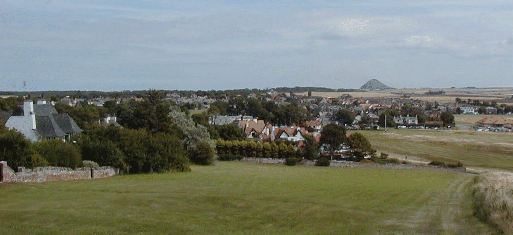 In August 1998 Nigel left Quarry House after 47 years living there. Ray, in her biography, dscribes the transition from Quarry House to his new, centrally heated home in Goose Green Mews, Gullane as 'seamless'. Nigel walked from Quarry House for the last time and kept on walking eventually arriving at his new house where his study, or Phronistery as he called it, had miraculously moved during his walk. The hand of Joan's organisation clearly being behind the whole process. Thus his writing suffered no break or delay whatsoever.
---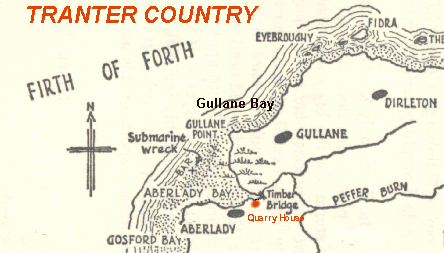 The move to Gullane simply reversed Nigel's daily walk through his historically inspiring territory. Now he would walk from the north across Gullane Golf Course and on to the shore area around Gullane Bay or Point heading towards Aberlady Bay. It must have been quite a wrench not to start the day with that inspiring daily crossing of his 'Bridge to Enchantment'
---
Gullane Bay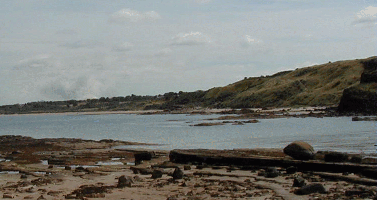 An example of the harsh coastline around part of the area. This contrasts greatly with the sand dunes and seashore that we saw earlier.
---
Fidra Island

Nigel, in his researching, found that Fetheray was the ancient name for Fidra, a lighthouse island at the bottom of the short lane that leads from the square at Dirleton down to Joan's house. That is the reason why Joan's house is named Fetheray.
Continue to ATHELSTANEFORD Where the saltire was born.

RETURN TO TRANTER MAIN LINKS PAGE

---
---