TOBY'S TRAVELS IN TRANTER TERRITORY (2)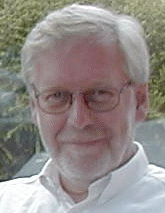 Being an illustrated diary of his weekend in East Lothian when he came, from Sweden, for the Tranter 2000 gathering
High graphic content but worth waiting for.
---

Monday:
Drive down to Aberlady and the Footbridge. Walked in Nigels footsteps over the bridge and followed the track thru high grass and bushes down to the beach of Aberlady Bay. Lots of flowers and birds. Low tide, not much water at all in the bay. Walked a long way out in the bay and out there I found the skeletons of the small submarines Nigel wrote about in his book "Drug on the market" ( See Tranter Country Web Page Ed). Walked along the beach to Gullane Point and then back to the bridge following smaller tracks thru the grassy dunes. I got wet over my knees.
Then by car on to Athelstaneford, a village that was very special to Nigel, for The Flag Heritage Center. I little bit hard to find. Audioshow in a very small building behind the church, the door only 1,5m high. It was in Athelstaneford church that Nigel and May were married on the 11th July 1933 and Nigel was largely responsible for setting up the 'Flag Fund' that keeps the Saltire flying every day.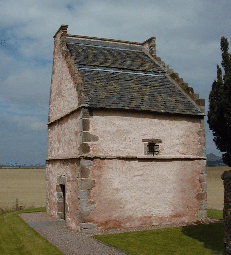 On to Dunbar. Pleasant small town, nice old Town Hall where there was a town history exhibition. Dunbar Castle in very bad state, in fact it was impossible to visualize what it once looked like. It features in Nigel's last three books about the Earls of Dunbar and March. No access to the castle ruin is possible. A small harbour with a very narrow inlet is beside the castle. Still some fishing boats operating from here.
Next stop:Tantallon Castle. This castle is something else, well worth visiting. Beautifully placed very high above the sea, a precipice behind the castle straight down, more than 30 m, I think. Very good information about the castle, even a drawing telling the different stages of the construction. On top there is a marvellous view of the coast from Dunbar to North Berwick and of course the Bass Rock.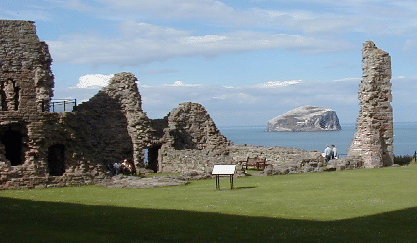 Back to Dirleton: Must see Dirleton Castle and Garden, it's just across the road from The Open Arms. Can't see much of the castle from my hotelroom window, huge old trees in the castle garden blocking the sight. Big surprise inside the garden walls, big beautiful garden with lots and lots of flowers and more of those big old trees and in the midst of it all a well preserved castle ruin.
That's about it, I think. Next time I come to Scotland I will try to visit Bass Rock if it's possible, that island fascinates me so much I use one of my photographs of the island (from Tantallon) as wallpaper on my computer. When I came home I found the book "Portrait of the Lothians" in the mail and when I looked in the book yesterday, I found a picture just the same as the one I took from Berwick Law with the whale bones on.
Toby
BACK TO PART ONE
---