Click to subscribe to nigel-tranter-books
TOBY'S TRAVELS IN TRANTER TERRITORY (1)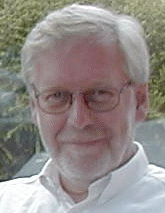 Being an illustrated diary of his weekend in East Lothian when he came, from Sweden, for the Tranter 2000 gathering.
High graphic content but worth waiting for.
---
Here is a brief recapitulation of my excursions in Tranter Country. I have taken photographs almost everywhere I went, and I have sent them on to Cameron to build into web pages.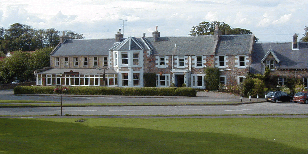 The Open Arms at Dirleton
I stayed at The Open Arms. I suspect all the other guests were golf players. Tom Hill, the proprietor, told me that Nigel had been eating there on several occations.
---
Friday:
Long walk from Dirleton north to the coast opposite Fidra Island and then following the coast west all the way to Gullane Point. Beautiful coast with yellow beaches broken by dark cliffs and reefs, backed by grassy slopes and in front those very distinctive and very different islands of Fidra, Craigleith and Bass Rock. Walking back thru Gullane Links and the golf courses.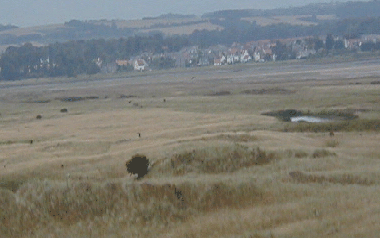 Gullane Links
Lunch at The Old Clubhouse in Gullane. After lunch trip to North Berwick and a walk up to North Berwick Law. Fantastic view from the top.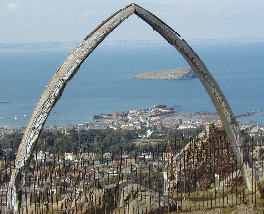 ---
Saturday:
Edinburgh, walked from the castle to Holyrood Palace (The Royal Mile) and then visited some bookshops for NT books. I found the 1st edition. of "There are Worse Jungles".
13.30 ---- Met Cameron at Kincardine Bridge. He took me first to Culross, ( pronounced Coo-ross ) a beautifully preserved old town with remains of the monastery where Thanea and St. Mungo (Druid Sacrifice) lived. This town is really a "must see" if you travel to Scotland.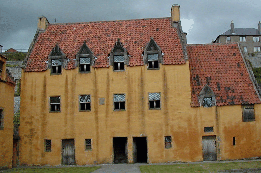 Culross Palace
We then went to a bookshop in Bridge of Allan where I got Nigel's 'The Queens Scotland', 'The Heartland' and then thru Stirling University campus to the Wallace statue that had been unveiled by Nigel. Ugly thing! He thought that he was going to unveil a statue to Wallace not Mel Gibson. Cameron told me that the face had been cut of, destroyed, by someone and a that the statue now had a new face and was protected by iron bars at night. Nigel also told Cameron that the one good thing that came out of that day was that Stirling Council paid him £300 to unveil the statue.
.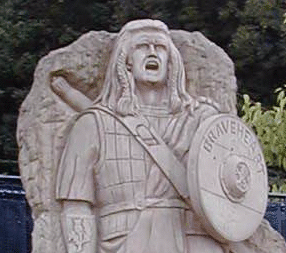 'The spirit of Braveheart' ???
Spend the afternoon and evening in Cameron and Helen's home discussing Nigel and looking at Cameron's collection, Really enjoyable.
---
Sunday:
Took the car to North Berwick Station, only 3 miles from Dirleton, to pick up Kyoko coming from Edinburgh by train. Kyoko and I were waiting in the lounge for everybody else to arrive. First came Alison with her father Jim and Deborah and then Rory. We all had something to drink and and an interesting chat until lunch. I was sitting next to Ray and, as you all probably know, she lived in Sweden for more than 30 years but what I didn't know was that she had translated The Swedish Constitution into English. What an enormous work!
At the luncheon and also at Joan's House I really felt the relaxed and friendly atmosphere and enjoyed every minute of it. Ray signed my (her) book in swedish, which translated into English says "With Kindest Regards" and this book with hers and all the other signatures makes it the "crown jewel" in my collection.
After lunch we went to Joan's house and she showed us a great deal of Tranter memorabilia. You can see photographs and read about it at this link. TRANTER GATHERING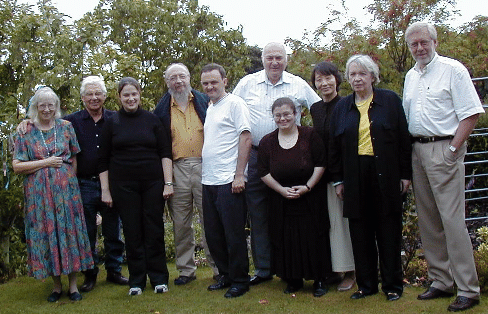 The Tranter Gathering
In Joan's back garden.
When we went from Dirleton to Aberlady Bay to see the timber bridge and Quarry House, Jim went with me in my car, and we had a very pleasant talk on the way. Really an amiable and interesting man.
What I want to say is that, when you talk to people face to face you get to know them a little bit better. I also talked with Paul on the way to Joan's house and to Quarry House, but there was too little time to really talk with Alison, Deborah and Rory. Next time, maybe we can make it a whole day meeting?
I did not take any photographs when Helen, Kyoko, Cameron and myself were at Quarry House. I saw Joan's album with pictures from Quarry House when Nigel lived there, and it really made me sad to see the state the place was in now. The house damp, neglected and in need of repair and the garden very overgrown.
Nigel and May in the Garden of Quarry House in happier times.
After leaving Aberlady I took Kyoko back to North Berwick Station but as it was more than 40 min to departure we took a tour thru the town and up to the viewpoint in the east end of the bay. As with Jim there was a lot to talk about.
After dinner at The Open Arms I had a very nice evening outside chatting and drinking whisky with two golfplayers from Houston, Texas and one from Fife and later Tom Hill and his father joined us.
---
On to the second part of Toby's Travels


RETURN TO