<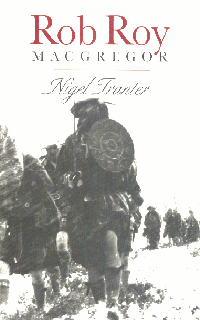 ROB ROY MacGREGOR
©Nigel Tranter
Published by Neil Williamson Publishing, 1995,
The action of this book is set Circa 1700 to Circa 1734

The text of this synopsis is taken from the book cover. The text of this synopsis is taken from the book cover. This synopsis and some minor changes in the text suggest revision of the 1965. Dobson hardback 'Outlaw of the Highlands'. There are also no b/w pictures or maps in this edition.

The romantic figure of Rob Roy looms large in the annals of Scottish History in the late 17th and early 18th centuries. Sir Walter Scott's characterisation of him helped create an almost Robin Hood-like figure who rode with his band of Gregorach through Central Scotland forever pressing King William's troops and allies to the limit. He was regarded by many as nothing less than a freedom fighter but by others as a thief, a blackmailer and even as a coward. But much of what he did was misunderstood.
That he was a Highland Gentleman is not in doubt. Born in 1671, the second son of Colonel Donald MacGregor of Glengyle who was imprisoned after the failure of the 1689 Rising, He did indeed rise by the age of 20 to command the respect of his clansmen; but the feared Gregorach were, in effect, master racketeers who ran an immense 'mail' operation throughout cattle-rich central Scotland.Without due payment to Rob Roy, a gentleman's herds could 'disappear' under new ownership as the clan stealthily swooped to capture them by moonlight.
That this actually served to keep the peace in a lawless land is usually ignored while the benefit to the purses of Clan MacGregor is never doubted.
His refusal to join the fray at Sheriffmuir is similarly held against him. He had good reason not to as tranter eloquently explains in this book. Furthermore, his clandestine dealings in the political espionage of the day did much to further the Jacobite cause when many were removing themselves from it.
Rob Roy's life and times are now the subject of a major motion picture from United Artists starring Liam Neeson and in this entertaining and accessible book Nigel Tranter lays bare Rob Roy's life and reveals the true stature of this legendary rogue.


RETURN VIA BACK BUTTON