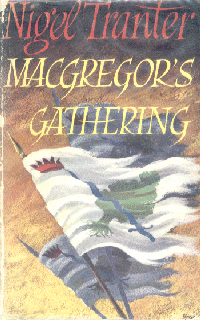 Jacket illustration by Val Biro
MACGREGOR'S GATHERING
©Nigel Tranter
Published by Hodder and Stoughton,1957,
The action of this book is set Circa 1706 to Circa 1709

The text of this synopsis is taken from the bookjacket.
Everyone has heard of the Highland freebooter Rob Roy MacGregor, but much less well-known is his nephew and pupil Gregor, Laird of Glengyle - a lad of parts, swaggering, warmhearted and masterful.
Together they were the leaders of the Landless Clan of the MacGregors, whose very name was proscribed and outlawed and who yet still managed to cling to Glen Gyle, one small corner of their ancient territories.
Uncle and nephew took a hand in great affairs when the Union of the Parliaments of Scotland and England was being carried out and trouble was stirring in the northern kingdom
A Jacobite rising was planned and the MacGregors were to play a prominent part - but Gregor found his attention a trifle distractead by Lowland Mary Hamilton.
Here is a lively and gripping story to carry the reader right into the Highland heather.

RETURN VIA BACK BUTTON