JANUSZ SLESZYNSKY

1917--1985
INTRODUCTION
Many years ago, when I bought the book that was to become the beginning of my Tranter 'first edition' book collection, I was unaware of the research that would spring from that purchase.
That book was 'Delayed Action' (1944) and tells the story of Polish, Professor Wolski, researching into explosives in the Scottish Borders, being attacked by Nazi spies and saved by the actions of the local Home Guard. I was particularly intrigued by Nigel's dedication." To my friend, Janusz Sleszynski out of Poland."
Some years later, on the unforgettable 9/9/99 to be precise, when Nigel visited Helen and myself, and he was signing my collection, I asked about Janusz. He told me that he was a wartime friend, a Polish officer who visited the Tranter family home at Cross Cottage in Aberlady. Only now do I wish, given all that has transpired, that I had sought much more information about their friendship. My researches of the past eighteen months would have been so much easier.
As part of my Tranter On-line web pages, in Nigel's memory, I have a detailed timeline of all his books, listed by date of publication, from 1935 to the present time. Under 'Delayed Action' I duly recorded the dedication to Janusz.
There the matter lay until the autumn of 2002 when I received an e-mail from Cecile Sleszynska in the USA asking if, by any chance, her late husband Janusz was the person to whom the dedication was made. Cecile's daughter, Christina, had searched her father's name on the Yahoo search engine and duly found my Tranter web page with its reference to 'Delayed Action'. Without considerable research it was, of course, not possible to be certain about Nigel and Janusz but I agreed, none the less, to attempt the task.
In November 2002 Cecile sent me more detailed information about Janusz and I had, sadly, to respond to her that, as my wife had been diagnosed with terminal cancer, I would be unable to continue for the time being.
By May 2003 I felt that involving myself in this research would be a valuable way to fill my time. And so it has proven to be, as more and more strands have been uncovered and new friends and contacts made.
Cecile officially appointed me as her agent in the United Kingdom and this gave me access to Janusz' war record from the MOD Archives. This proved to be a useful starting point for a search that has found me contacting Polish military connections in Scotland. In particular I would single out Robert Ostrycharz, Polish Forces Historian and Vice Chairman of the General Sikorski Memorial House in Glasgow, for his tireless help. His e-mail in tray frequently contained rather obscure requests that left both of us with unanswered questions.
The following account hopefully gives some insight into Janusz the soldier, the man and the tireless fighter for Human Rights ---- or at least as much as I have been able to uncover---- some sixty years after many of the events.
My hope is that these web pages will be considered a fitting tribute to Janusz' memory.
Pennon of the 24th Lancers
FAMILY BACKGROUND AND EARLY WAR YEARS
Janusz Wieniawa-Sleszynski was born in Varsovia, Poland, on the 28th November 1917 the son of Zenon Ludwick Wincenty Sleszynski. His father's lineage traces back, on the male side, to House of Wieniawa, origin Slesin, County Gostyn in the year 1578 and on the female side to Olechnowicz, House of Leliwa, Lithuania (Poland's Armorial General)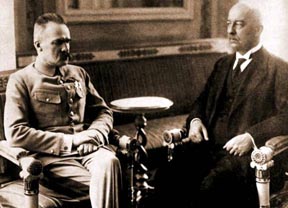 Janusz' father, Zenon, who was an international lawyer with practices in Warsaw, Paris and Geneva was also a politician and, in 1926, he was, briefly, Prime Minister designate for Poland. As in much of Europe this was not a comfortable decade in Polish politics. In 1922,the newly elected President, Gabriel Narutowicz, took office and was assassinated a week later while in May 1926 a coup d'etat by Jozef Pilsudski established the Sanacja regime intended to clean-up ("sanitise") political life. By 1930 many consider that this had become a virtual dictatorship and instead of liberating the people led to increased administrative powers and a limiting of democratic principles. The photograph on the right shows Pilsudski (left) and Narutowicz in 1922.
The fight for democratic ideals was to become the cornerstone of Janusz' post war life.
A wealthy landowner in Lithuania, Zenon also founded a newspaper. Gradually the family fortune dissipated and Zenon died before the war.
Prior to 1939 Janusz was studying law at Warsaw University but, because of the need to support his family after the death of his father, he also worked as a précis writer for The Polish Parliament in Warsaw. It is an interesting digression to point out that Nigel, after the death of his father, had to give up his apprenticeship to work to support his family Perhaps the two shared this common experience with each other.
On the 1st September 1939 Germany invaded Poland and on the 17th of that month Soviet troops crossed the Polish border. Janusz' life changed radically.
The Polish government attempted resistance, on both fronts, but eventually escaped into Romania where they were promptly interred. Janusz, like so many young Polish men, left university, took leave of his mother, who remained in Poland throughout the war, and made his way through Hungary and Italy to France where he joined the Polish forces that were re-grouping there.
Janusz arrived at Bron Aerodrome, a few kilometres from Lyon, on the 15th November 1939 and voluntarily enlisted in the Polish Air Force being posted to 1 Air Force Regiment, volunteering for flying personnel. Bron was home to the 'recruit squadron' and there he met Andrew Kleeberg, now living in Australia.
Andrew writes;
" Towards the end of November 1939, or early December, we all underwent a medical examination to qualify as pilots but Janusz failed the eyesight examination"
As a result Janusz, not wishing to be considered for ground crew duties, transferred from the Air Force to the Army and from January 1940 through until May he attended an Officer Cadet (Artillery Corps) course at COETQUIDAN in Brittany. A camp described by Piotowski (1943:45) as "a gloomy place - flimsy, wooden barracks built at the time of the last war by the American Army" .The link gives, in words and pictures, some idea of the conditions that Janusz probably met there,
On the 1st of June 1940 he was promoted to the rank of Corporal.
During this time the situation in France was worsening.
Diana Henderson, Editor of the book about Polish servicemen in Scotland entitled 'The Lion and The Eagle', Cualann Press (2001) describes the situation in her 'Historical Scene' by commenting;
" With the fall of France, some Polish troops crossed into Switzerland where they were interned. Others escaped from French ports to Britain. Many were sent to Scotland and there was a good reason for this.
Lost in the battle of France in 1940 was the whole of the cream of the Highland Territorial Army. The 51st Highland Division, which had been forced to surrender at St, Valery-en-Caux. This Division was reconstituted overnight by simply renaming the 9th Scottish Division, then stationed at home, as the 51st Highland Division. In Scotland, now completely unprotected against invasion and the real threat of German attacks, the newly arrived Poles were warmly welcomed. They immediately set to work defending Scotland
There was, however, no military infrastructure to accommodate them and they were left in our inhospitable climate, largely to their own devices, to live in tents, build their own camps, patrol the coastline and build coastal defences."
This then was the scenario into which Janusz came in 1940. After the fall of France he made his way to Bayonne, close to the border with Spain, where he found a ship to take him to Liverpool. He arrived on the 6th of July 1940 and immediately came under British command and was then posted to the 24th Lancers in Scotland.
Badge of the 24th Lancers
At this point it becomes difficult to state exactly where in Scotland he was first posted as the military service record simply states' Posted to 24th lancers based in Scotland (name of camp not recorded)'.
Robert Ostrycharz notes that the 24th Lancers were in the summer of 1940 in Douglas, Lanarkshire and after briefly undertaking airfield protection duty in Johnston, Renfrewshire they transferred to Arbroath in mid-late October 1940. It should therefore be to Douglas that Janusz was initially posted and subsequently to Arbroath.
However one comment by Andrew Kleeberg, in his letter, adds some complicating information to this when he says Janusz was;
" Posted to the 24th Lancers at Auchtermuchty in Scotland. I visited him there for Christmas on the 24th and 25th December 1940."
Further discussion with Andrew suggests that it was a fairly large camp comprising low buildings and housed some 180 to 200 soldiers. The difficulty with this information lies in the fact that the 24th Lancers do not seem to have been based there at that time and the three Auchtermuchty camps would seem to date from a later time. Research is continuing as regards this point.
Certainly in February 1941 there is no doubt at all that Janusz was at Arbroath because, on the 7th of the month, he formed part of the guard of honour for a visit of King George VI and Queen Elizabeth to the Polish Army HQ at 'The Elms', in Arbroath, where they were entertained to lunch. The following photograph shows the King and Queen along with General Sikorski leaving the Elms. Janusz is the tall soldier on the extreme right wearing a forage cap.
A newspaper account of the occasion reports that:
"Their Majesties, the King and Queen, in the course of an inspection of Polish troops in Scotland on Friday, paid a flying visit to Arbroath, where they had lunch.
Earlier in the day the King and Queen were met at a station by General Sikorski, the Polish Premier, and commander-in-chief of the Polish Army, and General Kukiel, the commander-in-chief of the Polish forces in Scotland
A Polish guard of honour was drawn up outside the station The King and Queen then drove to an area where they first inspected infantry regiments and afterwards artillery units.
The day's tour concluded with the King taking a salute at the march past of the Polish troops."
On the 10th of October 1941 Janusz was released from military service to attend a university course at Dundee. His service record does not specify which subjects he studied. At that time Dundee was not a university, in it's own right, but was part of St, Andrews University. The background to these courses is well documented in Michael Bolik's on-line paper under the University of Dundee Archive services entitled 'Polacy w Dundee', The Poles at Dundee. (To read the details follow the link)
Janusz returned to the 24th Lancers Regiment, for his Christmas break from study, from the 17th of December 1941 until the 14th of January 1942 when he again was released to study at Dundee.
At the end of his university course he appears to have returned to his regiment for only one day from the 22nd of June until the 23rd of June 1942 when he was placed on detached duty to attend a Signals training course with 1st Signals Squadron, 1st Polish Armoured Division, 1st Polish Corps. This course lasted for just over two months and he returned to the 24th Lancers on the 28th of August 1942.
MEETING WITH NIGEL?
The original impetus for this research was to prove that Cecile's husband was definitely the Janusz who knew Nigel and it is at this point when a possible meeting might have happened. Nigel was in an exempt occupation that put him on the reserved list until 1942 when he was called up and went for basic infantry training to The Durham Light Infantry at Brancepeth in County Durham. So during the time discussed above (1940 to 1942) both men were in Scotland. ('Nigel Tranter, Scotland's Storyteller by Ray Brad field, B & W, 1999.)
The problem is the absence of any common meeting place as Nigel's work would take him in and around Edinburgh and his home life would be in Aberlady, well out in the coast of East Lothian and not close to any of the places in which we have found Janusz.
That Nigel did befriend a Polish man Janusz Sleszynski is not in doubt as the book 'Delayed Action' shows. Published in 1944 it could have been written anything up to two years earlier coinciding with the time span above. Indeed further corroboration comes from Nigel's daughter, Frances May, who, although a very young child, remembers a tall Polish gentleman visiting at Cross Cottage.
So all the correct ingredients are present but no actual proof that Cecile's husband is definitely the subject of Nigel's dedication. Indeed the definitive proof emerged in a most unexpected way, as we shall see later in the research.
JANUSZ' WARTIME ACTIVITIES
Janusz presumably worked with his unit on routine duties until the 1st of March 1943 when another great change came into his life. A change that possible influenced him throughout his post war years and certainly gave him a basic training on which to build his later career.
On that date he moved from Scotland to London on detached duty at the Polish Military Bureau. There, for the next six months, he undertook training at the Foreign Affairs Department of the Polish Government in Exile with General Sikorski as Prime Minister. On the 1st of September 1943 he was discharged from military service for training in the Polish Diplomatic Service. He held this position for the next eight months before his next major life-changing event.
All this time the build up to the D-Day landings was in progress and his old unit, back in Scotland, The 1st Polish Armoured Division consisting of some 16,000 men and 400 tanks, was moving south down through England ready to move to the theatre of war in Normandy. On 1st August 1944 the 1st Polish Armoured Division, under the command of General S. Maczek landed at Arromanche and became part of the 1st Canadian Army.
As part of his job with the Polish Diplomatic Service Janusz would be very much aware of all this activity in readiness for embarkation. He voluntarily re-joined military service on the 1st of July and was immediately assigned to the Polish Military Mission as liaison with the staff of the Officer Commanding the 21st Army Group.
The 21st Army Group was an important part of the Allied forces and was commanded by Field Marshal Bernard Montgomery. In the early stages it controlled all the ground forces of Operation Overlord but, by the time that Janusz was involved, the American forces were in Normandy and operated under their own Army Group under General Bradley and the 21st Army group comprised the British Second Army and the Canadian First Army. The latter group included the 1st Polish Armoured Division.
Between his re-enlisting on the 1st of July and the Polish advance into France on the 1st of August we can imagine both the amount and type of liaison that Janusz would be involved in as part of the team that ensured that all the 1st Polish Armoured Division was in place ready to embark on the 31st of July. Janusz landed at Arromanche with the Polish forces. Arromanche was the main area where later troops, vehicles and supplies arrived using the artificial harbour 'The Mulberry' created from massive concrete pontoons towed across the channel and sunk offshore.
Link to a MAP of the Normandy area.
What has been considered the finest hour of the 1st Polish Armoured Division was the part that they played in the sealing of the FALAISE GAP on the 20th August. In this engagement the 1st Polish Armoured Division lost 325 killed, 1002 wounded and 114 missing. The Veterans Affairs Canada have the details of this action listed on their web page written on the 55th anniversary of the battle for Normandy.
On the 23rd of October 1945, when I estimate that the Polish forces would be in the Netherlands, Janusz was promoted to the rank of 2nd Lieutenant.
In terms of Janusz' service a rather peculiar transfer is made quite soon after this promotion. A type of transfer that was, in all, to happen four times in his career and would seem to have been an administrative move for record purposes, colloquially to 'keep the books straight'. On each occasion he was moved to undertake different duties.
On the 15th of November 1944 he was officially transferred from the Military Mission liaison personnel with 21st Army Group to the Armoured Fighting Vehicle (AFV) and Electro-Mechanical Engineering Training Centre (EME). Immediately he is then transferred from the AFV & EME to the Officer's Record Office and then transferred, 1st of March 1945, back to London to the Polish Government in Exile, Foreign Affairs Department that he had left some 18 months before.
Shortly after, on the 23rd of April 1945, one of the most significant events of Janusz' war came about when, in London, he married Cecile Andree Roches a French woman who was in the WRENS.
With victory in Europe in sight, VE Day being the 8th May 1945, another job relocation was to come for Janusz when, on the 1st of May 1945, he was contracted in the rank of Captain into the administrative section of the Centre working on the Military Occupation of Germany Plan. This secondment lasted until the 30th of November 1945 when, he is transferred, once more, to the AFV & EME Training Centre (For record purposes).
This time on the 1st of December 1945 he was released from active service to continue his studies in law at the University of Oxford where a temporary Faculty of Polish Law was set up during WWII. This completed the education that he had started in Warsaw before the war.
He was recalled from his studies, yet again, to the AFV & EME Training Centre where he reported on the 2nd August 1946 and was sent on detached duty as liaison officer to the Sub District of Agricultural Works.
On the 30th of November 1946 he again reported to the Training Centre and finally on the 2nd of December to the Demobilisation Centre where his war officially ended.
As mentioned above, Janusz' mother remained in Poland throughout the war and, using family contacts, Janusz managed to arrange for her to come to England after the war.
Cecile worked for the fledgling United Nations when it was founded in London in 1945 and she and Janusz' mother moved to New York in September 1946 when the UN moved there. Janusz had the option of returning to Poland but chose not to become part of the Soviet regime probably seeing it in Human Rights terms to be not unlike the Nazi regime so recently deposed.
He also had the opportunity to be Polish representative at Strasbourg but, again, he could not condone the Communist regime that dominated his country.
Unable to be with his family in the United States, because of nationality reasons, he chose to go to Brazil and eventually joined his family in New York in 1947.
NIGEL AND JANUSZ
Having researched Janusz' war years in detail and knowing about Nigel my researches, in terms of proving that Cecile's husband was indeed the Janusz of 'Delayed Action' I really failed as, in my Scottish research, I am unable to prove that both men were in the same place at the same time.
However one of those quirks of fate, that seems to bedevil all researchers, was to provide that proof ---- and from a most unexpected source.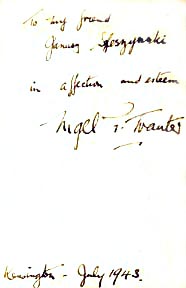 In February 2004, when all the above data was gathered in, but not yet written up, I received an e-mail from Cecile saying;
"While going through some old papers and books, imagine that I found a book by Nigel Tranter. This book is offered to Janusz with the following
'To my friend Janusz Sleszynski in affection and esteem, signed Nigel G. Tranter, Kensington July 1943.
The book is Mammon's Daughter and I shall be reading it with a special pleasure "
In Ray Bradfield, in her biography of Nigel, says:
' He spent most of his army service in East Anglia and in and around London with a light ack ack unit, living grandly, for a time, at Kensington Palace, but more often sleeping in a tent on a bomb-site in the East End'.
Returning to Janusz wartime record above we see that, from 1st March 1943 he moved from Scotland, and was posted to work with the Polish Government in Exile. The seat of that body was 18 Kensington Palace Gardens, London.
Now whether the two kept in written contact from their first meetings in Scotland or whether they accidentally 'bumped into' each other in Kensington is entirely open to conjecture but it does answer the question that was initially posed. Cecile's husband is definitely the Janusz of 'Delayed Action'.
A bonus to the research was finding from the MOD that Janusz was entitled to two war medals that he had not received. I was delighted to obtain them and send them to Cecile.
JANUSZ' POST WAR ACTIVITIES
Having researched this far into Janusz' life I decided to continue and present a detailed outline of his remarkable career, spanning the next forty years, that was particularly notable for his continuous striving for democratic principles and Human Rights. For most of the following section I am indebted to the summary of Janusz' career by Centro para La Defense Estudio de los Derechos Humanos, Madrid. (The Center for the Defence of Human Rights - CEDEHU.)and to his wife Cecile.
As an introduction to the part of Janusz' life I can do no better than precis some of the introductory comments made by the author of the CEDEHU article.
I first came into contact with Janusz in 1983 when I spoke to him on the telephone about coming to our XIII RCC Congress. I could tell that he supported our ideals and that his experience, with the loss of his homeland to Communism, allied him to our cause.
He attended the Congress and again I could tell from our discussions of the great dedication of his life to that most sacred ideal of humanity, the full recognition of human dignity. I was also aware of the great support that he was prepared to give, over the years, to many other nations who had suffered oppression.
Cecile and Janusz at a reception in Geneva about 1981
We saw that his undergraduate study had been completed in England just after the war. Post graduate study was in international public administration at The Woodrow Wilson School, part of Princeton University.
1948 - 1950 Janusz worked with European companies in New York becoming, in 1950, the Vice President of the Swiss American company of Exports.
1951--- After a long journey abroad he started again to work for the Central European Union of Christian Democrats and also as editor, for the United Nations, of publications in Spanish and Portuguese.
That same year he became a member of the International League for Human Rights and also a member of the International Association for Liberty and Democracy. His great knowledge of languages including Polish,Spanish, French, Portuguese, Italian and German made him ideally suited to such an international profile.
In all Janusz visited some 22 countries as he took part in international events.
Some of these include;
From 1953 he took part in ORIT Seminars in Mexico amd Costa Rica.
In 1954 he attended the III Catholic Seminar titled 'Rural Life in Panama'.
In 1955 he went to the Congress in Santiago in Chile.
In 1956 at the World's Conference of Christian Democrats he worked as a coordinator between the delegations of Latin America, Europe and Africa.
In 1957 He travelled to Sao Paolo and Venezuela to negotiate on behalf of the Christian Democrat leaders of COPEI (Comité de Organización Política Electoral Independiente),who were imprisoned and whose political party had been banned by Perez Gimenez.
He was an official observer at the elections of Venezuela in 1958 and in 1959 he was again involved with the World Conference of Christian Democrats.
In 1960 he visited Chile during the election. He was there in his capacity of negotiator for the Christian Democrats. On this occasion he was supporting Dr Raphael Caldez, President of Venezuela who wanted to give support to Edouardo Frei. It was to be the election of 1965 before Frei came to power.
His experience, skills and knowledge in Latin America from 1959 led to his appointment in 1966 as President of the Christian Democrat Centre of Action.
Meeting with Lech Walensa in Geneva about 1980
From 1968 to 1974 he was the President of the International Development and Relations Society with residences in Geneva and Vienna.

From 1975 he was the representative of the Christian Democrat Human Rights and Social and Economic Development.

The summing up of Janusz extensive, important and above all humanitarian work can best be done by quoting verbatim from the CEDEHU article referred to earlier;

Janusz enjoyed the respect and admiration of personalities world wide because of his expertise and professionalism in the economic, social and political fields in the development of Latin America. He was,consulted by the White House, The State Department, The Senate, the AFL-CIO and numerous universities in both Europe and America.

Janusz died on the 25th of November,in Paris, while working for the United Nations and his final resting place is in Cimitiere de THIAIS. He leaves his wife Cecile, his son Thierry and his daughter Christina.

Cameron comment
On a personal note I would comment that it was a great privilege to know Nigel and it has been an honour to research yet another great man of our time. For both their greatness was not based on power or publicity but by simply working diligently away at their chosen career. Careers that, in their different ways, have affected people world wide.

Both Nigel and Janusz, unique in their fields,were greatly respected and rightly deserved the international reputations that they both built up over the post war years. Although working in very different areas they appear to have had similar natures. Both were strong minded but 'gentlemen' in the truest sense of the word, kind and considerate in character but, above all, both were strongly motivated by idealism.

Such a pity that the two went their own separate ways after the war. I am certain that they would have continued to have a great deal in common and would have enjoyed some wonderful discussions with one another.

Cameron Cunningham February 2004

To be added to corrected and generally updated before going on to the WWW.
RETURN TO NIGEL TRANTER'S