JANUSZ SLESZYNSKI

1917--1985
PART TWO
FAMILY BACKGROUND AND EARLY WAR YEARS
Janusz Wieniawa-Sleszynski was born in Varsovia, Poland, on the 28th November 1917 the son of Zenon Ludwick Wincenty Sleszynski. His father?s lineage traces back, on the male side, to House of Wieniawa, origin Slesin, County Gostyn in the year 1578 and on the female side to Olechnowicz, House of Leliwa, Lithuania (Poland?s Armorial General)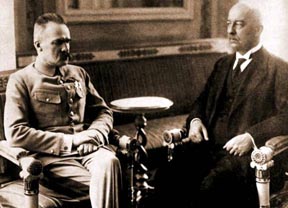 Janusz? father, Zenon, who was an international lawyer with practices in Warsaw, Paris and Geneva was also a politician and, in 1926, he was, briefly, Prime Minister designate for Poland.
As in much of Europe, this was not a comfortable decade in Polish politics. In 1922,the newly elected President, Gabriel Narutowicz, took office and was assassinated a week later while in May 1926 a coup d?etat by Jozef Pilsudski established the Sanacja regime intended to clean-up ("sanitise") political life.
By 1930 many consider that this had become a virtual dictatorship and instead of liberating the people led to increased administrative powers and a limiting of democratic principles. The photograph on the right shows Pilsudski (left) and Narutowicz in 1922.
Possibly reflecting his father's beliefs, the fight for democratic ideals was to become the cornerstone of Janusz? post war life.
A wealthy landowner in Lithuania, Zenon also founded a newspaper. Over the nineteen thirties the family fortune gradually dissipated and Zenon died before the war.
Prior to 1939 Janusz was studying law at Warsaw University but, because of the need to support his mother, after the death of his father, he also worked as a pr?cis writer for The Polish Parliament in Warsaw.
It is an interesting digression to point out that, at age 19, after the death of his father, Nigel had to give up all thought of an apprenticeship in architecture to work to support his family. Perhaps the two men shared this common experience with each other.
On the 1st September 1939 Germany invaded Poland and on the 17th of September Soviet troops crossed the Polish border. Janusz? life changed radically.
The Polish government attempted resistance, on both fronts, but eventually escaped into Romania where they were promptly interred. Janusz, like so many young Polish men, left university, took leave of his mother, who remained in Poland throughout the war, and made his way through Hungary and Italy to France where he joined the Polish forces that were re-grouping there.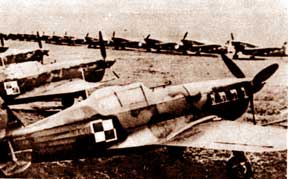 Janusz arrived at Bron Aerodrome, a few kilometres from Lyon, on the 15th November 1939 and voluntarily enlisted in the Polish Air Force and was posted to the 1st Air Force Regiment.
Bron was home to the ?recruit squadron? and there he met Andrew Kleeberg, now living in Australia. As both wished to become a pilots they volunteered for flying personnel.
Andrew writes;
? Towards the end of November 1939, or early December, we all underwent a medical examination to qualify as pilots but Janusz failed the eyesight examination?
As a result Janusz, not wishing to be considered for ground crew duties, transferred from the Air Force to the Army and from January 1940 through until May he attended an Officer Cadet (Artillery Corps) course at Coetquidan in Brittany. A camp described by Piotowski (1943:45) as;"a gloomy place - flimsy, wooden barracks built at the time of the last war by the American Army". This view is supported by Captain Apfel-Czaszka, in the 'Lion and the Eagle', (See below) when he says " We went to Brittany to a terrible old First World War camp to form up and train."
The above link gives, in words and pictures, some idea of the conditions that Janusz undoubtedly met there, unless the Officer Cadets received better accommodation.
On the 1st of June 1940 he was promoted to the rank of Corporal.
During this time the situation in France was worsening.
Diana Henderson, Editor of the book about Polish servicemen in Scotland entitled ?The Lion and The Eagle?, Cualann Press (2001) describes the deteriorating situation in her 'Historical Scene' by commenting;
? With the fall of France, some Polish troops crossed into Switzerland where they were interned. Others escaped from French ports to Britain. Many were sent to Scotland and there was a good reason for this.
Lost in the battle of France in 1940 was the whole of the cream of the Highland Territorial Army. The 51st Highland Division, which had been forced to surrender at St, Valery-en-Caux. This Division was reconstituted overnight by simply renaming the 9th Scottish Division, then stationed at home, as the 51st Highland Division. In Scotland, now completely unprotected against invasion and the real threat of German attacks, the newly arrived Poles were warmly welcomed. They immediately set to work defending Scotland
There was, however, no military infrastructure to accommodate them and they were left in our inhospitable climate, largely to their own devices, to live in tents, build their own camps, patrol the coastline and build coastal defences.?
This then was the scenario into which Janusz came in 1940. After the fall of France he made his way to Bayonne, close to the border with Spain, where he found a ship to take him to Liverpool. He arrived on the 6th of July 1940, immediately came under British command and was then posted to the 24th Lancers in Scotland.
Badge of the 24th Lancers
At this point it becomes difficult to state exactly where in Scotland he was first posted as the military service record simply states ?Posted to 24th lancers based in Scotland (name of camp not recorded)?.
Robert Ostrycharz, however, notes that the 24th Lancers were, in the summer of 1940, in Douglas, Lanarkshire and towards the end of July 1940 they were sent to undertake airfield protection duty at Abbotsinch and were based in Johnstone, Renfrewshire. They then transferred to Arbroath on the 17th October 1940. It should therefore be to Douglas that Janusz was initially posted and subsequently to Arbroath.
However one comment by Andrew Kleeberg, in his letter, adds some complicating information to this when he says Janusz was;
? Posted to the 24th Lancers at Auchtermuchty in Scotland. I visited him there for Christmas on the 24th and 25th December 1940.?
Further discussion with Andrew suggests that it was a fairly large camp comprising low buildings and housed some 180 to 200 soldiers. The difficulty with this information lies in the fact that the 24th Lancers do not seem to have been based there at that time and the three Auchtermuchty camps would seem to date from later in the 1940s. Research is continuing as regards this point.
Certainly in March 1941 there is no doubt at all that Janusz was in Arbroath because, on the 7th of the month, he formed part of the guard of honour for the visit of King George VI and Queen Elizabeth. On that visit they went to the Polish Army HQ at ?The Elms?, in Arbroath, where they were entertained to lunch. The following photograph shows the King and Queen along with General Sikorski leaving the Elms after lunch. Janusz is the tall soldier on the extreme right wearing a forage cap.
A newspaper account of the occasion reports that:
?Their Majesties, the King and Queen, in the course of an inspection of Polish troops in Scotland on Friday, paid a flying visit to Arbroath, where they had lunch.
Earlier in the day the King and Queen were met at a station by General Sikorski, the Polish Premier, and commander-in-chief of the Polish Army, and General Kukiel, the commander-in-chief of the Polish forces in Scotland
A Polish guard of honour was drawn up outside the station The King and Queen then drove to an area where they first inspected infantry regiments and afterwards artillery units.
The day?s tour concluded with the King taking a salute at the march past of the Polish troops.?
On the 17th July the regiment moved to a tented camp at Scone Palace Park and the regimental history notes that three uhlans (Lancers) transferred for University study. One of them would be Janusz as in his MOD record we find that on the 10th of October 1941 Janusz was 'released from military service to attend a university course at Dundee'. His service record does not specify which subjects he studied.
At that time Dundee was not a university, in it?s own right, but was part of St, Andrews University. The background to these courses is well documented in Michael Bolik?s on-line paper under the University of Dundee Archive services entitled ?Polacy w Dundee?, The Poles at Dundee. (To read the details follow the link)
Janusz returned to the 24th Lancers Regiment, which had re-located to Montrose in mid October 1941, for his Christmas break from study. His break lasted from the 17th of December 1941 until the 14th of January 1942 when he again was released to study at Dundee.
In April 1942 the 24th Lancers moved to Galashiels.
At the end of his university course he appears to have returned to his regiment for only one day from the 22nd of June until the 23rd of June 1942 when he was placed on detached duty to attend a Signals training course with 1st Signals Squadron, 1st Polish Armoured Division, 1st Polish Corps. This course lasted for just over two months and he returned to the 24th Lancers at Galashiels on the 28th of August 1942.
MEETING WITH NIGEL?
The original impetus for this research was to prove that Cecile?s husband was definitely the Janusz who knew Nigel and it is at this point when a possible meeting might have happened.
Nigel was in a reserved occupation and it was not until September 1942 that he was called up for basic infantry training to The Durham Light Infantry at Brancepath in County Durham. So during the time discussed above (1940 to 1942) both men were in Scotland. (?Nigel Tranter, Scotland?s Storyteller' by Ray Bradfield, published by B & W, 1999.)
The problem lies with the absence of any common meeting place. Nigel?s work would take him in and around Edinburgh his home life would be in Aberlady, well out in the coast of East Lothian and not close to any of the places in which we have found Janusz.
That Nigel did befriend a Polish man Janusz Sleszynski is not in doubt as the book ?Delayed Action? shows. Published in 1944 it could have been written anything up to a year earlier. Indeed further corroboration comes from Nigel?s daughter, Frances May, who, although a very young child, remembers a tall Polish gentleman visiting at Cross Cottage, Aberlady.
So, while all the correct ingredients are present, no actual proof exists, in the above information, that Cecile?s husband is the subject of Nigel?s dedication. Indeed the definitive proof of this finally emerged in a most unexpected way, as we shall see later in the research.
CLICK ON THE PENNON FOR PART THREE
RETURN TO NIGEL TRANTER'S