JANUSZ SLESZYNSKI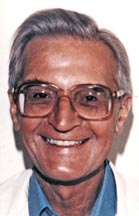 1917--1985
IN MEMORIAM – JANUSZ SLESZYNSKI
My father
Born in Warsaw on 28 November 1917 – deceased in Paris on 25 March 1985
25 years already … I was barely 20 when my father died. He was a great human rights activist, a convinced Internationalist and Christian Democrat. He loved Latin America and Venezuela in particular. Living in exile but loyal to his native Poland, he became a citizen of the world.
I have from him memories of a tender father and husband, a generous person, faithful to his friends; he liked good wines and my mother's sumptuous meals; he was a little crazy but very creative. He loved to dance, travel, laugh, talk and change the world. His friends, of all ages and walks of life, came from all corners of the world; there were unionists, diplomats, artists, politicians and even a president.
He taught me about respect and loyalty, the incredible diversity of people and cultures, he taught me to have an open mind and to know the past in order to understand the future; he tought me to travel and the taste of good food, the beauty of the world and of nature, to appreciate the small and big things of life. He transmitted against all odds a set of values which became mine today.
If you knew my father and have memories of him, please share them with me. I will keep them and some day transmit them to my children. And please pass on this message to other people who knew him and for whom I don't have e-mail addresses.
Thank you. Christina
If you would like to send Christina any memories of her father please send them to me and I will forward them.
<!e-mail!>
PART ONE
INTRODUCTION
Many years ago, when I bought the book that was to become the beginning of my Tranter, first edition, book collection, I was unaware of the research that would spring from the purchase.
That book was "Delayed Action" (1944) and it tells the story of a Polish, Professor Wolski, researching into explosives in the Scottish Borders, being attacked by Nazi spies and saved by the actions of the local Home Guard. I was particularly intrigued by Nigel?s dedication." To my friend, Janusz Sleszynski out of Poland."
Some years later, on the unforgettable 9/9/99 to be precise, when Nigel visited Helen and myself, and he was signing my collection, I asked about Janusz. He told me that he was a wartime friend, a Polish officer who visited the Tranter family home at Cross Cottage in Aberlady.
Only now do I wish, given all that has transpired, that I had sought much more information about their friendship. My researches of the past eighteen months would have been so much easier.
One of my web pages in, 'Tranter On-line' is a detailed timeline of all Nigel's books, listed by date of publication, from 1935 to the present day. As part of the entry for ?Delayed Action? I duly recorded Nigel's dedication to Janusz.
There the matter lay until the autumn of 2002 when I received an e-mail from Cecile Sleszynska in the USA asking if, by any chance, her late husband, Janusz, was the person to whom 'Delayed Action' was dedicated.
Christina,her daughter, had entered her father?s name on the Yahoo search engine and found my Tranter web page with its reference to the dedication. Without considerable research it was, of course, not possible to be certain about Nigel and Janusz but I agreed to attempt the task.
In November 2002 Cecile sent me more detailed information about Janusz and I had, sadly, to reply to her that, as my wife had been diagnosed with terminal cancer, I would be unable to continue for the time being.
By May 2003 I felt that involving myself in this research would be a valuable way to fill my time. And so it has proven to be, as more and more strands have been uncovered and new friends and contacts made both in Scotland and abroad.
Cecile officially appointed me as her agent in the United Kingdom a step that gave me access to Janusz? war record from the MOD Archives. This proved to be a useful starting point for a search that has found me in touch with many Polish military connections in Scotland.
My thanks are particularly due to Robert Ostrycharz, Polish Forces Historian and Chairman of the General Sikorski Memorial House in Glasgow, for his tireless help throughout. His e-mail in tray frequently contained rather obscure requests that left both of us with unanswered questions.
The following account, hopefully, gives some insight into Janusz the soldier, the man and the tireless fighter for human rights ---- or at least as much as I have been able to uncover---- some sixty years after many of the events.
My hope is that these web pages will be a fitting tribute to Janusz' memory as well as a reminder of the times and friendship of two young men thrown together by the vagaries of world events.
Pennon of the 24th Lancers
CLICK ON THE PENNON FOR PART TWO
RETURN TO NIGEL TRANTER'S