Web page ©Cameron Cunningham
All graphics &copy: Val Biro and used with his permission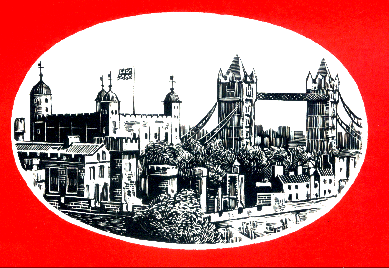 THE TOWER OF LONDON
"Hello again and welcome to one of Val's most unusual design projects, not a book illustration or cover design this time but a bird's eye view map of the Tower of London published by Ernest Benn Ltd. in 1970.
Presented in an eyecatching red envelope the map measures 765 X 560 mm and is absolutely full of both visual and written information.
Details of all the buildings are given at the foot of the map.
"Here is an example of some of the detail from Val's map. You can see how beautifully it is illustrated.

I have also included some of the historical information."
B --- Byward Tower;Built late 13th century, additions Richard II (1367-1400)
Q --- Wakefield Tower. Build by Henry III.
R --- The Bloody Tower: Believed to be the scene of the murder of Edward V and his brother the Duke of York,(1483) Sir Walter Raleigh imprisoned from 1603-16 and in 1818 prior to his execution.
S --- The Traitor's Gate. Landing place for convicted prisoners tried at Westminster
T --- St. Thomas' Tower; Built by Edward II. Contains a chapel dedicated to Thomas Becket.
"And finally some more detail from Val's map.The spare space on the right hand side is full of arms and armour, a knight standing in armour, the crown jewels and a beefeater and ravens, Symbols that we all associate with the tower." "
Click on Gumdrop to return to Val's 'Homepage Links'