Web page ©Cameron Cunningham
All graphics &copy: Val Biro unless otherwise stated
Val and Gumdrop
The 1926, Austin Clifton Heavy 12/4 that features in his children's books.
THE VAL BIRO STORY PART I

Hello dear visitor.
I am Horace and I would like to tell you all about a very special man that I know.
I don't mean Mr. Oldcastle, my owner, with whom I have had wonderful adventures that I will share with you later on.
No, I mean Val Biro who brought both of us to life and to whom we and the book-reading public owe so much.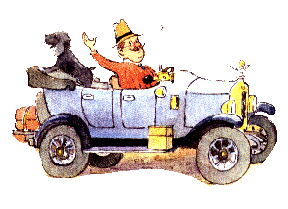 I haven't asked him if it is allright to just call him Val but Mr Oldcastle reckons that, as he has lived with us in his mind for so long, we must be really good friends. So Val it is.

Just in case you are a bit confused about us the picture on the right shows myself, Mr. Oldcastle and Gumdrop.

Val is very learned and a gifted artist and I would like to guide you through his life and work and to give you a glimpse of his prodigious talent. ( A big word that, whatever it means, but Mr. Oldcastle assured me that it was the very best word to describe Val's work.) Although Val now lives in the South of England with Mimi and Gumdrop he was not born in this country. If you want to find out where he was born and all the details of his long and creative life, then go to his biography pages.

After reading his biography please return to these pages and see examples of his many books, book covers and illustrations.

Oh dear!!

I almost forgot to tell you about Cameron,up in Scotland. He is helping me to build these web pages. The late Nigel Tranter,'Scotlands Storyteller' was a friend of Cameron and his wife Helen.
While Cameron was building web pages about Nigel and his prodigious output, ( I've really got to like that word) he noticed Val had designed 30 book cover illustrations for Nigel's books between 1951 and 1980.

Cameron wanted to know who this Val Biro was so he tracked him down, via the internet. After a phone call Val sent Cameron a copy of my adventures in Scotland with Mr. Oldcastle and Gumdrop when we met the Loch Ness Monster. This is the only Scotsman that I remember from that trip, and he turned out to be a London crook in disguise.

I hope Cameron looks nothing like this.

Hi everybody.

I am Guinness, Cameron's dog.

I just called in to see why he has been spending so much time with this 'Horace' lately. He seems OK -- for a spaniel !!

I can put your mind at rest. Cameron IS nothing like the drawing. In fact he is really quite normal---- for a psychologist!!!

I am happy leave the two of them to their work.

The next section is really good --- I peeked !!. Detailed information about Val's book covers, illustrations and children's books. Wonderful.

<!Page 2 link!>


Click on my picture for part 2 of the Val Biro story.