Click to subscribe to nigel-tranter-books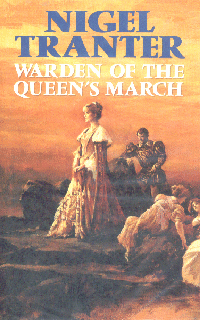 WARDEN OF THE QUEEN'S MARCH
© Nigel Tranter
Published by Hodder and Stoughton, 1989
ISBN 0-340-49957-5
The action of this book is set Circa 1561 to Circa 1568

The text of this synopsis is from the bookjacket.
Mary Stuart called Thomas Kerr of Ferniehirst her Protector. And certainly that romantic and unfortunate Queen required protecting, from the circumstances of her time, from the most unscrupulous collection of scoundrels in high places Scotland had ever had to put up with, from savage religious intolerance, even from her husbands. The beautiful Mary, only eighteen when she came to take up the burden of ruling her native land, made many mistakes. But who would not, faced with her problems and pressures, at such an age? However, she made no mistake in trusting Thomas Kerr.
This is the story of one man's dedicated service and loyalty in one of the most testing periods of Scottish history, a man who saw the errors made, experienced the temptations, suffered the pangs, but remained faithful; less than easy, when his own love was the daughter of one of the Queen's most effective enemies.
Here is the so well known drama of Mary Queen of Scots seen from a different angle, that of a young Border laird caught up almost by accident in the turmoil created by John Knox, the Regent Moray, Darnley, David Rizzio, Bothwell, the Queen's Marys, and never of course forgetting Elizabeth Tudor of England, ever in the background.
Whatever you think of Mary Stuart, love her, hate her, fail to understand her, you can share in Sir Thomas Kerr's dilemma and heart searchings in this, one of Nigel Tranter's most moving novels.

RETURN VIA BACK BUTTON