Click to subscribe to nigel-tranter-books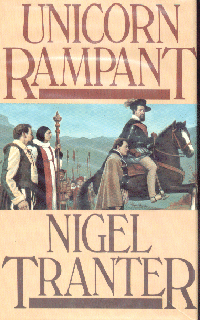 UNICORN RAMPANT
© Nigel Tranter
Published by Hodder and Stoughton, 1984,
ISBN 0-340-33720-6
The action of this book is set Circa 1617 to Circa 1619

The text of this synopsis is from the bookjacket.
That wisest fool in Christendom, James the Sixth and First, made only the one return to his native land after succeeding to Elizabeth's throne and founding the United Kingdom.
In 1617 that peculiar monarch came north again to Scotland - and initiated one of the most extraordinary three months that even that ancient kingdom ever had to experience, a prolonged comedy - drama of misadventure, misunderstanding, disaster and the highest of jinks gone agley.
Scotland had waited fourteen years for this - but within the week was praying for delivery. Involved in all, and mostly at his wits end, was young John Stewart of Methven, illlegitimate son of the Duke of Lennox and grandson of the renowned Master of Gray - and therefore, to his cost, in some sort of far-out kinship to King Jamie. John,no courier, learned his royal service the hard way.
When the monarch returned to London, to Scotland's heartfelt relief, John was commanded to go too, however reluctant, and therefore found himself mixed up in some distinctly murky ongoings, all in the Royal interest, in a war of wits with the Queen and her ladies, the monopolist merchant-princes of the City, the influential Howard faction and others - whilst all the time longing to be back in Strathearn with Mary Gray and Janet Drummond.
He proved that a Knighthood can be dearly-bought .
In this high - spirited story in the exuberant vein of his 'Wisest Fool' and the 'Master of Gray' trilogy, Nigel Tranter's pages are peopled with such resounding characters as Sir Walter Raleigh, Sir Francis Bacon, Steenie Villiers, Duke of Buckingham, the future Charles I and a host of others prominent in a stirring age. But none could bear a candle to Jamie Stewart, the Lord's Anointed and God's Vice-Regent on this earth - nor dared.

RETURN VIA BACK BUTTON