Click to subscribe to nigel-tranter-books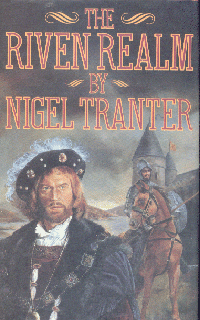 THE RIVEN REALM
© Nigel Tranter
Published by Hodder and Stoughton, 1984,
ISBN 0 340 33721 4
The action of this book is set Circa 1513 to Circa 1526

The text of this synopsis is from the bookjacket.
Sorry the nation where a babe is King's, runs the old saying, and surely never was its truth more direly demonstrated than in Scotland after its most grievous disaster, flodden Field in 1513, with James at the fifth, aged seventeen months succeeding it to a shattered realm, and the power-hungry waiting a like jackals to assail the kingdom, and each other: Douglases, Hamiltons, Stewarts , Homes, even Holy Church, and Henry the Eighth of England seeking to gain by conquest, assassination, intrigue and bribery, what his predecessors had failed to win down the centuries, the over-Lordship and control of the northern kingdom.
Against this background, in the first of a trilogy of novels, Nigel Tranter tells the dramatic story of two main characters deeply involved, both named David - David Lindsay of the Mount , later to be famed as the author of the celebrated 'Three Estates' and other works: and David Beaton, in time to become the second most execreted name in Scottish history.
These two, neither high-born, the sons Lowland lairds, were classmates at the University of St Andrews. In their very divergent paths thereafter they kept coming together, caught up in the tempest of hatred and fear, war and treachery and naked ambition which hit their nation and involve England, France, the Empire and the Vatican.
Sixteenth-century power politics and brinkmanship are drawn in bright stark colours by a master Scottish story-teller.

RETURN VIA BACK BUTTON