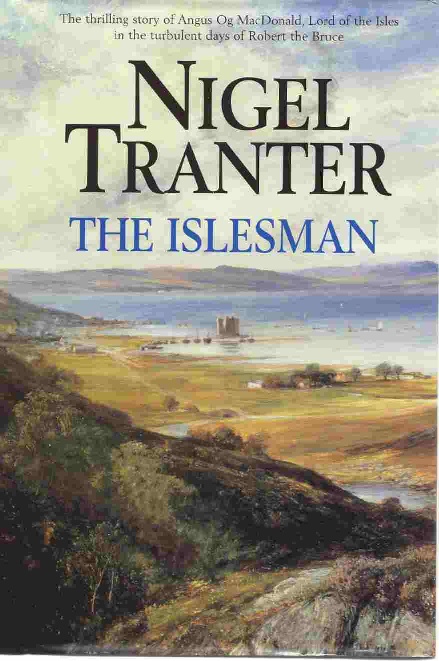 THE ISLESMAN
© Nigel Tranter,
Published by Hodder and Stoughton, 2003
ISBN
The action of this book is set Circa 1300

The text of this synopsis is from the bookjacket.
Angus Mor, Lord of the Isles, direct descendant and successor of the great Somerled, had a son, Alexander of Islay. But from the first, Alexander was of a different metal, too studious to be the warrior who was needed to rule that far-flung island principality. Knowing this, Angus Mor brought up his Grandson to be ready to act the lord in due course.
This is the story of that Grandson, Angus Og MacDonald.
The semi-independent prince of the Hebrides and much of the West Highland mainland, he was a worthy representative of a notable line, living in dramatic and exciting times for Scotland and England, for Ulster, Man and Ireland. He took his part in all, an active supporter of Robert the Bruce, chief of chiefs. He was a man who sought peace and prosperity for his so scattered people, encouraged trade, seeking to heal the feuding propensities of the clans, allaying the Isles with Orkney Shetland and Norway, travelling as far as the Baltic. He was also a man of humble mind, and a proud father.
Nigel Tranter here brings to vivid life a story of war and voyages, of loyalty and daring, from one of the most fascinating periods of Scottish history.

RETURN VIA BACK BUTTON