Click to subscribe to nigel-tranter-books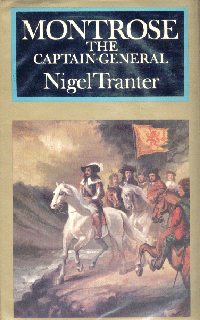 Jacket illustration by Val Biro
MONTROSE - THE CAPTAIN GENERAL
©Nigel Tranter
Published by Hodder and Stoughton, 1973,
ISBN 0 340 16900 1
The action of this book is set Circa 1649 to Circa 1650

The text of this synopsis is taken from the bookjacket.
This second of two novels about James Graham, the great Marquis of Montrose.
History has thrown up few men like James Graham, Marquis of Montrose. Consistent nobility of character allied to a great kindliness, driving purpose and a sense of humour, is rare enough. When such a character is acknowledged as one of the most brilliant generals and tacticians of all time, and who, moreover, received one of the rawest deals in recorded history - the sum of all this might seem almost too much, especially when the man was extraordinarily good looking and richly endowed with both the graces and talents, a poet indeed.
Yet Montrose was no more a plaster-saint than he was a prig on a pedestal; on the contrary, the most human of men, excellent company - and a self - doubter. He saw his own weaknesses as clearly as he saw his duty.
In 'Montrose: The Captain - General', Nigel Tranter takes James Graham from the sorrowful aftermath of victory at Inverlochy, through the chain of triumphs at Aldearn, Alford and Kilsyth, to complete mastery of Scotland and a position to endanger Cromwell's England. Then, from betrayal and the desertion, to his exile on the Continent, where the rulers of Christendom competed to do him honour - and he met Elizabeth of Bohemia, the Winter Queen, the sister of his emprisoned master, Charles.
Elizabeth was all that her brother was not, lively, vigorous, clear-headed and lovely. In her, for the first time, Montrose recognised and truly kindred spirit.
But Charles's execution in 1649 produced a new young King to fight for, and duty took Montrose back to Scotland, on a forlorn hope. None knew it better than he. But even James Graham was not prepared for the greatest act of betrayal of all, when Charles the Second came to terms with the enemy behind his back, and sacrificed his truest servant for expediency - for nothing, as it turned out - one of the dastardly events in Britain's history.
Yet Montrose's greatest triumph was still to come. Conducted to his barbaric execution in Edinburgh, he died magnificently , and lesser men dwindled to insignificance.
The 'Captain General' completes the story of the Great Marqus, which Nigel Tranter started in 'The Young Montrose', in spirited succession to his enormously successful trilogy on Robert The Bruce

RETURN VIA BACK BUTTON