Click to subscribe to nigel-tranter-books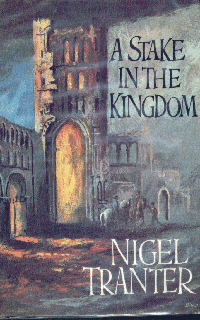 A STAKE IN THE KINGDOM
©Nigel Tranter
Published by Hodder and Stoughton, date,
ISBN The action of this book is set Circa to Circa

The text of this synopsis is taken from the bookjacket.
Cardinal David Beaton's name is possibly the most execrated in all Scottish history; yet he was a great patriot, in a fiercely independent land notably productive of patriots. And traitors!
He was one of the most able statesman of his century, a far-seeing, courageous man of great qualities, character and loves. And yet his name stinks still in Scottish nostrils along with the stench of burning flesh ¬Why? What accounts for the paradox?
Beaton, of course, was a man of paradoxes. Seventh son of a penurious Fife Laird, he yet rose to be uncrowned king of Scotland, to wield more power in both church and state than any other man before or since. While still a student at the Sorbonne, he was already Scotland's envoy to the King of France. Married, and happily, he demoted his wife to the status of mistress - and had to legitimise his already legitimate children.
A lover of women, he was accused of being father to Mary Queen of Scots, yet he was faithful to Marion Ogilvy after his fashion.
A man of little or no religion, he single-handed held up the Reformation in Scotland for a generation. He was assassinated at the age of forty nine. The cardinal was no saint; by present-day standards not even a moderately good man.
But he was a gallant fighter and a fascinating character, playing a memorable part in one of the great crises in the affairs of Christendom - and history has certainly done him injustice.
Nigel Tranter, in this long and absorbing novel, probes for the David Beaton who love and laughed, scheme and burned, and fought gross Henry the Eighth to a stand still - until the Royal dagger got him.

THE STORY BEHIND CAMERON'S COPY OF
'A STAKE IN THE KINGDOM

From the ABE booksearch pages
8th March 2001 .
Nigel Tranter, A Stake in the Kingdom, Great Britain: Hodder and Stoughton, 1966 Price: US$ 368.00 Presented by Niel Proudlove Bookseller, Vernon, BC, Canada order options
The above 'book for sale', at $360,in the ABE pages caught my eye and I passed the information on to our list members with the observation that the price was yet another example of the way that some internet dealers are raising the price of Nigel's books and artificially inflating their worth.
While there is no doubt that some Tranter's are extremely scarce and will therefore command a high price it is sad to see quite ordinary titles going for high prices. There are many collectors prepared to pay 'over the odds' for Nigel's books and this will encourage the profiteering that we see above.
Anyway, putting all that aside for the moment, I thought I would share my copy of 'A Stake in the Kingdom' with you as thereby hangs an interesting tale.
I purchased it some three years ago from a bookseller in Edinburgh who said, on the telephone, that he would need to ask a higher price for it as it had a letter along with it obviously from Nigel to the original owner. Expecting to have to pay a high price I asked how much he was asking for it and was surprised when he said that he wanted £22.00 for the two items.
You can well imagine that I, casually, said that I would like him to keep them for me and I would come for them the very next day.
This I duly did and it was later signed by Nigel when he and Joan visited Helen and I on the 5th September 1999. On that day I asked him. in jest, if he felt ready to tackle a book on John Knox. He replied, "Not really as it would be a very divisive book because of the nature of the man and his religious beliefs and difficult to write."
Little did I know on that lovely autumn day, as we walked round our garden,that four months from that date Nigel would be dead. Somehow it makes my question all the more poignant.

Nigel's Letter
From Nigel Tranter
Quarry House
Aberlady
East Lothian

8th January 1967
Dear Tom,
How very nice of you to write. I am glad that you enjoyed " A Stake - ". It was an interesting novel to write - but that does not always mean an interesting novel to read! David Beaton just couldn't have been so black as he was painted, and I felt that, here was an enigma worth going into. Especially as practically every other castle we visited in Angus and the Mearns, for Volume Four of my series, was alleged to have been built for 'one of his mistresses' by Cardinal Beaton. No man could have left quite so many monuments to his extra marital felicity - and when I discovered that practically every one claimed that their lady's name was Marion or Margaret Ogilvy , I got interested.
I agree that George Wishart is a problem. It would be a good idea for one of these bright young PhD seekers to do a thesis on the this historical problem - was Wishart the same man as was so long an agent in Henry's pay? It might be possible to ferret it out, given the time - probably all the details are there, in the English state papers.
As for writing a novel on the true John Knox (or at least, my interpretation therof) I don't know that I have the courage! If I knew that I was going to be safely dead before publication day, I might risk it.
With all the greetings of the season, and my hopes that your radio activities flourish like what I once believe was called a 'bay-rum tree'.
Sincerely
Nigel Tranter
RETURN VIA BACK BUTTON