Click to subscribe to nigel-tranter-books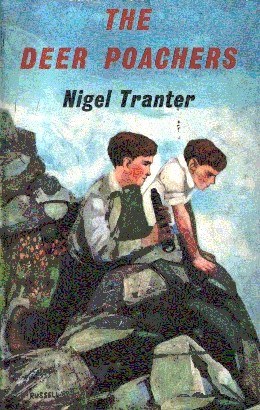 Jacket illustration by Russell
I am grateful to John and Yvonne Goodwin of N.Z. for the information about this book.
THE DEER POACHERS
©Nigel Tranter
Published by Blackie and Son, 1961,
The action of this book is set in the 20th century

The text of this synopsis is taken from the bookjacket.
"Listen Ian!"cried Donald MacDonald.
"What's that?" exclaimed his brother Ian. "That noise?"
And so the adventure began.
Don and Ian are on holiday in the Cairngorms with their family, and while out walking in the hills, get on the track of deer poachers.
Their pursuit leads them over mile upon mile of rough Cairngorm country until eventually - and with great risk to themselves - they manage to catch them.
This is a lively story told with Nigel Tranter's usual panache. The characters are well-drawn and distinct, and the descriptions exhale a faithful atmosphere of mist, rock and loneliness.

RETURN VIA BACK BUTTON