Click to subscribe to nigel-tranter-books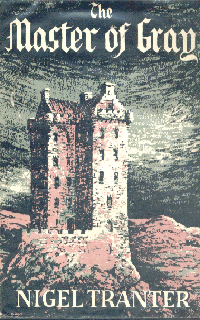 Jacket illustration by Val Biro
THE MASTER OF GRAY
©Nigel Tranter
Published by Hodder and Stoughton, date,
The action of this book is set Circa 1574 to Circa 1587

The text of this synopsis is taken from the bookjacket.
Scotland has produced no lack of scoundrels in her long story but none quite so wholehearted, so successful, as Patrick Master of Gray. Accepted as the most handsome man in Europe in his day, he was also one of the most accomplished, witty and fascinating.
From the sombre Castle Huntly on the cliffs above the Tay, Patrick went to the most brilliant courts of Europe, and soon became very much at home. The attempts to free Mary, Queen of Scots from her English prison, the Huguenot wars, the Spanish Armada - Patrick was involved in them all.
He betrayed and counter-betrayed, made treason both a pastime and a fine art. And yet the same people continued to trust him...what sort of a man could this be? Nigel Tranter, in his most ambitious novel, has suggested a possible answer.

RETURN VIA BACK BUTTON