Click to subscribe to nigel-tranter-books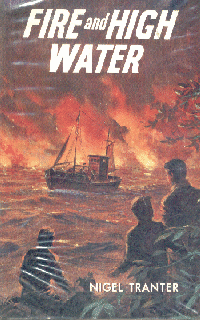 Jacket illustration by Val Biro
FIRE AND HIGH WATER
©Nigel Tranter
Published by Hodder and Stoughton, 1967,
The action of this book is set in the 20th century

The text of this synopsis is taken from the bookjacket.
The Hebrides and West Highland seaboard are amongst the most beautiful and exciting places on earth. But all the excitements are not in the scenery. There is a great clash of interests between the local crofter-fishermen and the deep-sea trawlermen and seine-netters who come from all over Europe to fish these narrow waters. The "foreigners" often trawl close inshore, well inside the three-mile liimit, to sweep clean not only the local fishermen's home grounds but the fish breeding-grounds as well, destroying the stock for years to come. With thousands of miles of coasts and islands, the few fishery cruisers cannot possibly protect all.
Don and Ian MacDonald on holiday in Skye, get mixed up in this conflict, and find themselves in much hotter water than they anticipated when they decided to put their oar in to help their fisherman friend Murdo Macleod. What starts as a small private feud with a foreign craft, develops into full-scale war.
The MacDonald brothers have an aptitude for getting into trouble - this is the fourth exciting novel in which Nigel Tranter has featured Don and Ian - and boys will find this to be the pair's most thrilling and large-scale adventure yet.

RETURN VIA BACK BUTTON