Click to subscribe to nigel-tranter-books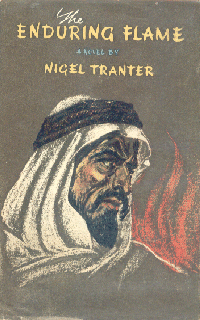 THE ENDURING FLAME
©Nigel Tranter
Published by Hodder and Stoughton,1957,
The action of this book is set in the 20th century

The text of this synopsis is taken from the bookjacket.
In the cockpit of the Middle East, where the Great Powers pull this way and that, and oil draws like a magnet, the traditions and way of life of the proud Arab people tend to disappear. The influence of the oil man and the politician has had more pervasive results than merely to flood the desert with dollars and provide Sheiks with Cadillacs.
The Sultan of Duweila, 'The Flame of God' to the fanatical Wahabis, did not mean to let his people become corrupted, and Duweila became the Forbidden Land. Professor Glynn Edwardes considered himself lucky indeed to have got permission to take an archaeological expedition into the country - and the Trans- Arabian Oil Company was luckier still to have inserted Angus Guthrie into the expedition to spy out the land.
But if oil and water do not mix, still less do oil and archaeology. Angus tried to mix them, among the burning sands and parched wadis of Arabia Deserta, and failed. He found himself involved in something greater than both.
His adventures and the expedition's, and the incredible luck of them all, make an engrossing, exciting and highly topical story.

RETURN VIA BACK BUTTON