Click to subscribe to nigel-tranter-books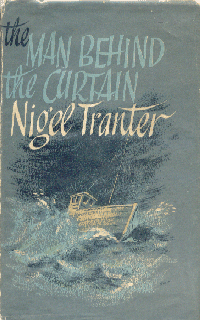 Jacket illustration by Val Biro
THE MAN BEHIND THE CURTAIN
©Nigel Tranter
Published by Hodder and Stoughton, 1959,
The action of this book is set in the 20th century

The text of this synopsis is taken from the bookjacket.
The island of Bornholm is the Pearl of the Baltic. It is also nearest free land without frontiers to Communist Poland and parts of East Germany. It has, therefore, some considerable claim to attention, beyond its great natural beauty.
David Moncrieff, ex-R.N.V.R., wildfowler and skilful navigator, found his way to Bornholm from Scotland with a considerable problem on his mind. His mission was a secret one and his superiors intended him to perform it alone, but Moncrieff found more than he bargained for on Bornholm, including two determined young women: the beautiful Swedish girl Thyra Nordstom, and Kirsten Neilson, daughter of a well-known anti-Communist doctor. An exciting and very topical story, which has recently seen part-fulfilment in real life.

RETURN VIA BACK BUTTON