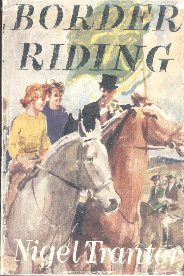 BORDER RIDING
©Nigel Tranter
Published by Brockhampton Press, 1959,
The action of this children's story is set in modern times

The text of this synopsis is taken from the bookjacket.
Sheep-stealers nearly made Ken and Fiona miss the historic Border Riding.
Caught in the fog they spend a night on a cold hillside, wake to strange happenings, and find themselves involved in a dramatic chase in which, in the nick of time, the participants in the colourful Riding, play a dramatic part.
A stirring sequal to ' Spaniard's Isle '- on horseback now instead of under water.

RETURN VIA BACK BUTTON