Click to subscribe to nigel-tranter-books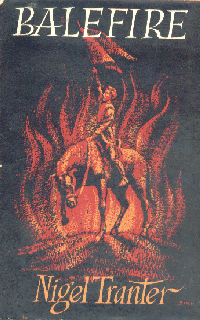 Jacket illustration by Val Biro

BALEFIRE
©Nigel Tranter
Published by Hodder and Stoughton, 1958,
The action of this book is set Circa 1513
The text of this synopsis is taken from the bookjacket.
Here is a Border Ballad indeed, a violent, desperate, tender tale of two Burghs, one in Scotland, one in England, and how a famous and ancient feud started between Hawick on Teviot and Hexam-on Tyne, back in the grim days immediately following the battle of Flodden, when Scotland was beaten to the ground, if not her knees --a feud that even today is not wholly buried. and certainly not forgotten.
It is a tale of Simon Armstrong, a young Scots Border Laird, one of the very few survivors of fatal Flodden Field, and of the Northumbrian family of Ridley into whose keeping he came in secret fashion; of two sisters, Esther and Marcia Ridley, who fought in their own way more valliantly than did their menfolk.
It is a story set in tragic days of heroism and dastardy, of hard-riding mosstroopers and vengeful swordsmen, of balefires and beacons and burning homes, set in the green fair Borderland of England and Scotland. And of a love that knew no borders, and accepted no defeat.

RETURN VIA BACK BUTTON