Click to subscribe to nigel-tranter-books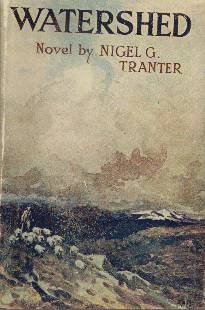 WATERSHED
©Nigel Tranter
Published by Ward Lock, 1941,
The action of this book is set in the 20th century.

The text of this synopsis is taken from the bookjacket.
This is the story of Neil Grant, home from the Sudan, who sought the wily brown trout of the Highland rivers in the place where they belonged, and found instead folly and strife - and notice-boards; also of Ian Gordon, crofter, who preferred the heather to overbearing authority,and of Kirsty Fraser who saw both sides of the story, all enacted against the wild background of An Feithe Mhor, a lonely watershed amongst the Grey Mountains of Badenoch.

RETURN VIA BACK BUTTON