Click to subscribe to nigel-tranter-books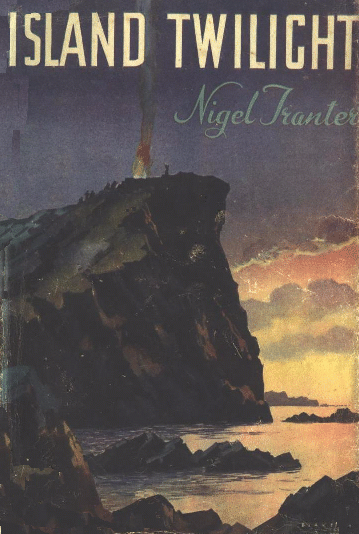 ISLAND TWILIGHT
©Nigel Tranter
Published by Ward Lock,1947 ,
1981 Richard Drew hardback edition.
Cover illustration by Blake. The action of this book is set Circa 1816.

The text of this synopsis is taken from the Richard Drew edition bookjacket.
Erismore was a small island of the Inner Hebrides, unimportant and remote. But it had its own strange dark history and its stranger fate,cradle and grave of faiths, and a fire burned there that the centuries had quelled elsewhere.
Finlay MacBride, the island's wandering pastor,dying in a Flanders barn on the eve of Waterloo, delivered his last message into the doubting hands of Aeneas Graham, Surgeon-Major in the Highland Brigade, and a surprising dance it led him, and an even more surprising destiny awaited him on the Isle Erismore. here is a singularly strange and gripping tale, of ancient evil and tender love, of fierce conflict and pathos and beauty.

RETURN VIA BACK BUTTON