Click to subscribe to nigel-tranter-books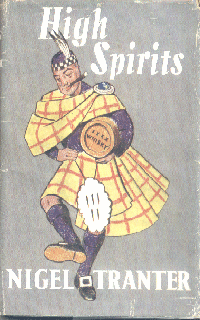 HIGH SPIRITS
©Nigel Tranter
Published by Collins, 1950,
The action of this book is set in the 20th century.

The text of this synopsis is taken from the bookjacket.
Here is something new for Nigel Tranter - just as Slugs Macian was something new for Highland Scotland. You are not asked to take Slugs too seriously, although in his native Chicago he was apt to be taken very seriously.
High Spirits is indeed a spirited rampageous, almost an alcoholic frolic, a saga of Illinois and Ardnamurchan, of the Middle West and the Western Isles, of the bad lands of Milwaukee and the Highlands of Lorne.
You will either loath or love Slugs Macian- possibly both - Trade Union boss and sentimentalist, but you will not ignore him. Nobody ever ignored Slugs or his daughter Julie either.
Even the everlasting hills themselves could not ignore the impact. Here is no nostalgic lament of the Celtic Twilight, here indeed is the Celtic sunrise, even if out of the West, it beams of most exuberant tartan, shining brightly in a Scotland where happily there is still a rare nip in the air.

RETURN VIA BACK BUTTON