Click to subscribe to nigel-tranter-books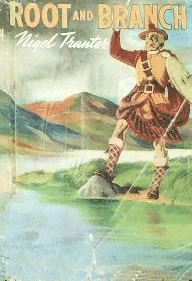 ROOT AND BRANCH
©Nigel Tranter
Published by Ward Lock, 1948,
The action of this book is set in the 20th century

The text of this synopsis is taken from the bookjacket.
The MacRaes of Lochroy were a well-doing acquisitive lot, notably aware on which side their bread was buttered. But very occasionally they produced a throw-back, a branch from a very old root, deep-buried.
Such a one was Simon Ruaraidh Roy MacRae, seventh of Lochroy, representer of his house when the seventeenth century was dying and the Stuarts were throwing away their crowns.
So also was Colonel Simon Roy, V.C., D.S.O., etcetera, Commando leader, nineteenth of his line, in this present dispensation of grace, when the twentieth century was doing its best to commit suicide in a welter of blood and high-explosive. Alike they were as two peas from the same pod, yet how different the world's reaction to them.
Read this lively, swashbuckling chronicle of the clans and the heather, and learn what fate had in store for both of them, in Nigel Tranter's latest and most colourful story.

RETURN VIA BACK BUTTON