Click to subscribe to nigel-tranter-books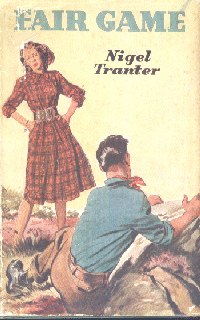 FAIR GAME
©Nigel Tranter
Published by Ward Lock,1950 ,
The action of this book is set in the 20th century.

The text of this synopsis is taken from the bookjacket.
The connection between your diminishing meat-ration, the Great Grey Man of MacDhui, and the descent of lawlessness on the empty glens of the Highlands, may seem obscure.
But to Alan Kinnear they became as clear as crystal, or at least, of the amber waters of Loch Coraig, beside which he sought to create a masterpiece but only found his fate - and a very different fate from that which he seemed to invite by his impulsive efforts in the cause of law and order.
Nigel Tranter has given us many novels set in his beloved heather, but none surely more gripping than this tale of present-day large-scale deer-poaching amid the great forests, the green corries, and the wind-swept summits of the high Cairngorms.

RETURN VIA BACK BUTTON