Click to subscribe to nigel-tranter-books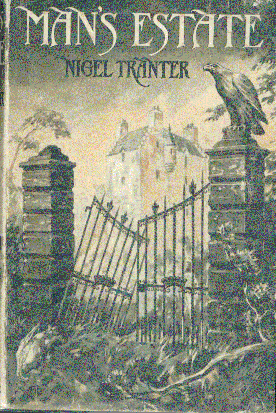 The design for this cover was comissioned from an unknown artist and a proof copy sent to Nigel. He was unhappy with the result because the artist had illustrated the castle as a typically English style castle.
Being, of course, an expert on the subject of Scottish Castles he could not allow it to be published in that form - so he re-drew it showing a Scottish style of architecture and sent it back to the publisher. It it was duly published, as above, with Nigels drawing.
On one of my visits to Nigel he showed me the two versions and, most certainly, the artists original copy would have been very out of place.
MAN'S ESTATE
©Nigel Tranter
Published by Ward Lock, 1946,
The action of this book is set in the 20th century

The text of this synopsis is taken from the bookjacket.
Eagles do not bring forth doves. For many centuries the house of Thriepwood had held true to its motto, and if it had brought forth much strange progeny in its long and violent history, there had been no doves among them.
But if John Thriepwood, fifteenth Viscount, inheriting via the distent plains of New Zealand and the scarred battlefields of Europe, was of a different calibre to his predecessors , he was no dove either.
Succeeding to an empty title, a dishonoured name,and a derilict property, he fought a harder, lonlier fight than any of his hard-fighting ancestors, with no quarter expected and little given - except in the direst need, when it was given suddenly, unexpectedly, and entirely, as only a woman can give.
Read how John Thriepwood came fully into Man's Estate.

RETURN VIA BACK BUTTON