Click to subscribe to nigel-tranter-books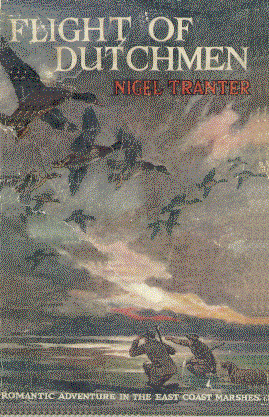 FLIGHT OF DUTCHMEN
©Nigel Tranter
Published by Ward Lock, 1947,
The action of this book is set in the 20th century just after the Second World War.

The text of this synopsis is taken from the bookjacket.
Dutch refugees settled in suffolk during the occupation of their country. The war over and the refugees gone, once again only yhe wild geese fly with dusk and dawn and tide.
But David Scott and John Brownlow find other things beside wild fowl flighting there. Without actually looking for trouble the run in to it - trouble of more sorts than one that David Scott feels called on to investigate. And his investigations unfold an extremely engrossing and intriguing mystery.

RETURN VIA BACK BUTTON