Click to subscribe to nigel-tranter-books

A NEW BIBLIOGRAPHY OF NIGEL'S BOOKS
Compiled by Colin Mills. Due to be published on the 3rd of May 2003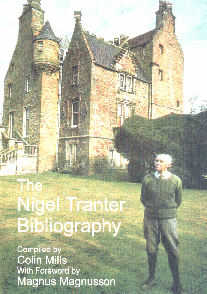 The book cover
A sample of the page layout relating to 'Balefire. The cover illustration of each edition is shown together with the synopsis of the story plus detailed information about each book.
Details of the text relating to 'Balefire'.
COLIN WRITES;
All Nigel's 137 books published to date are listed in their first edition formats, as well as many re-issues in hardbacks, paperbacks, reprints,and special editions, together with 293 full colour miniature reproductions of covers and dust-jackets.
In addition there are six appencices listing the books in alphabetical order, thematic listing,special editions, list of publishers in the UK and Overseas, other published writings and further reading about Nigel Tranter, lists of artists,designers and photographers who were responsible for the colourful covers and jackets. This book will be of great value to collectors and booksellers alike.
Produced in A4 size with navy-blue covered boards and dust jacket, and having 144 pages, ISBN 0 9544447 0 1, the book will be available by mail order from Underhill Publications Ltd., Shiskine, Isle of Arran, Scotland, KA27 8EW, and from bookshops.

RETURN VIA BACK BUTTON