Click to subscribe to nigel-tranter-books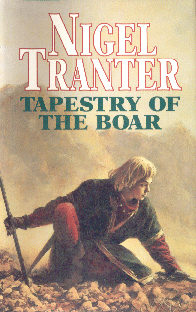 TAPESTRY OF THE BOAR
Nigel Tranter, Published by Hodder and Stoughton, 1993
ISBN 0 340 60106 X
The following details of the story are taken from the book jacket.
The action of this book is set Circa 1141 to Circa 1166.
During the late 12th century many parts of Scotland where menaced by wild boars, slayers of humans as well as of sheep and cattle. Particularly affected was and the Merse, the area we now know as Berwickshire.
Young Hugh De Swinton was only the second son of a second son, but he had been brought to the attention of Malcolm, the Fourth, King of Scots, for his expertise in killing boars. A man of initiative and drive, Hugh became leader of the mosstroopers who acted as scouts for the armys defending their land against the Celtic marauders. So while he continued to manage the Swinton's large sheep flocks, he also helped to put down the Galloway rebels.
But Malcolm, a pious king much concerned for the well-being of his people, had a very different project in mind for Hugh De Swinton, one for which he would eventually be knighted: to establish the first real hospital for the sick and poor in Scotland, at Soutra in Lauderdale.
Once more Nigel Tranter's rich mind and fascinating research combined to bring the history of Scotland to vivid life.

RETURN VIA BACK BUTTON