Click to subscribe to nigel-tranter-books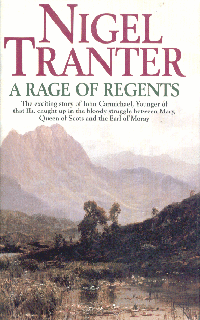 A RAGE OF REGENTS
Nigel Tranter, Published by Hodder and Stoughton, 1996
ISBN 0 340 65996 3
The following details of the story are taken from the book jacket.
The action of this book is set Circa 1568 to Circa 1581.
In 1568, the defeat of Mary, Queen of Scots at the battle of Langside, and her subsequent flight to England and lengthy imprisonment there, left Scotland a troubled nation. Mary's infant son was crowned King as James VI, with her illegitimate half-brother James Stewart, Earl of Moray as Regent. The population remained bitterly divided as Moray and the Protestant lords began to wreak their terrible vengeance on supporters of the losing side.
Having fought for the Queen at the battle, Sir John Carmichael of Lanarkshire determined to escape his inevitable punishment by forging an alliance with his former opponents. Thus he forced his fiercely protesting nineteen year-old son to marry crippled Margaret Douglas, whose brother, the then Earl of Morton, was chief of the Black Douglas's and senior minister under the Regent.
To his great surprise, John Carmichael, Younger of that ilk, grew to love for his new wife. Content to pursue his modest ambitions of land improvement, organising fishing expeditions and raising a family, he was appalled to discover that his brother-in-law had other plans for him. Appointed Warden of the Middle March, Carmichael was charged with bringing some sort of order to a motley crew of moss troopers, cattle thieves and march raiders.
And that was how , much against his will, John Carmichael became deeply entangled in the murky world of Scot's regency government, eventually finding himself in great danger.
In this fascinating tale of treachery and intrigue, Nigel Tranter brings him and the turbulent times in which he lived to vivid and memorable life.

RETURN VIA BACK BUTTON