Click to subscribe to nigel-tranter-books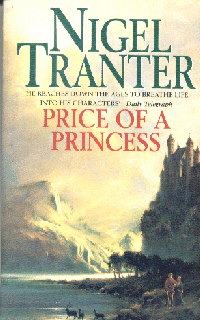 PRICE OF A PRINCESS
Nigel Tranter, Published by Hodder and Stoughton, 1994
ISBN 0 340 55899 7
The following details of the story are taken from the book jacket.
The action of this book is set Circa 1439 to Circa 1469.
Mary Queen of Scots was not the only Mary Stewart who made her mark on Scotland : in the mid 15th century, Mary , eldest daughter of King James the second, played an important part in the destinies of both Scotland and Denmark.
After young James the Thirds accession to the Scottish throne, the ambitious a Boyd family of Kilmarnock seized power in a bloodless coup. At first unwilling to marry Thomas Boyd, future Earl of Arran, Mary eventually learned to love him, and when he was sent to the Danish court to it negotiate with King Christian, she discovered a unique talent for a diplomacy. In exchange for Princess Margaret of Denmark marrying her brother, she at length, persuaded that the Danes to hand over the islands of Orkney and Shetland to Scottish dominion. But when the Boyd regime was finally toppled, May's position became a severely compromised.
Nigel Tranter shows how, irrespective of their individual desires, the lives of royal young women were all too frequently used to forword national or political alliances, in this riveting tale of intrigue, romance, violence, treachery, and heartbreak

RETURN VIA BACK BUTTON