Click to subscribe to nigel-tranter-books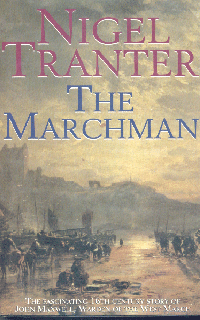 Cover painting detail. Ravenscraig Castle by Samuel Bough, Courtesy of Sotheby's Transparency Library.
THE MARCHMAN
Nigel Tranter, Published by Hodder and Stoughton, 1997
ISBN 0 340 65994 7
The following details of the story are taken from the book jacket.
The action of this book is set Circa 1542 to Circa 1563.
During the the sixteenth century, the border land between Scotland and England was, something of a world apart with its own strange laws, beliefs and customs. John Maxwell, 1542 second son of Lord Maxwell, Warden of the West March, was born into a family accustomed to rule this unstable part of the country.
He was also born into a Reformation period, and era of great change and tension in both England and Scotland. As the turbulent reign of King Henry VIII gave way to the rule of Elizabeth Tudor, John Maxwell sought to play his part on the March of Dumfries and and Galloway, doing his best to control a motley crew of dalesmen and mosstroopers from Liddesdale, Eskdale, and Dryfesdale amongst others, and keeping some sort of balance with the equally unruly West March English.
A loyal supporter of Mary, Queen of Scots, Maxwell inevitably found himself drawn into the wider sphere of the Kingdom's affairs, becoming involved with Mary's suitors, courtiers - and enemies. How he fared with the likes of Bothwell, Darnley, Moray and the rest - not to mention his courtship of the beautiful Agnes Herries - forms the fascinating subject of Nigel Tranter's compelling story.

RETURN VIA BACK BUTTON