Click to subscribe to nigel-tranter-books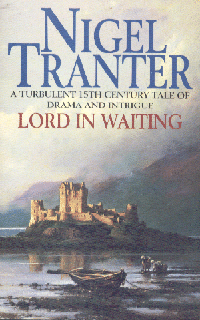 LORD IN WAITING
Nigel Tranter, Published by Hodder and Stoughton, 1994
ISBN 0 340 58785 7
The following details of the story are taken from the book jacket.
The action of this book is set Circa 1472 to Circa 1488.
A weak monarch was a disaster for any nation, but no country needed a firm hand more than Scotland, with its feuding clans and the ever present threat of an English invasion.
For the feeble James the third this problem was exacerbated by his tendency to surround himself with lower born courtiers, rather than influential nobles. It was plain for all to see that he should have sought the counsel of men of the calibre of the fifth Earl of Angus, alias Archibald Bell the cat, or his brother John, Lord of Douglas, a born leader and a man of conscience and a vision. But instead, James found himself under the thumb of one of the most clever and unscrupulous individuals in Scotland's history, the astrologer and alchemist William Sheves, Archdeacon of St. Andrews.
Before long John Douglas was thinking that Scotland would be far better served if James's wise and strong-minded sister Princess Mary, now forcibly married to the ambitious and promiscuous Lord Hamilton, could have acceded to the throne instead of her brother.
Drama, treachery and romance abound in this, the second of Nigel Tranter's 'Mary Stewart Trilogy', the sequel to the Price of a Princess.
Note; There never was a trilogy published. Only these two. Why this statement appears on the book jacket I do not know.

RETURN VIA BACK BUTTON