Click to subscribe to nigel-tranter-books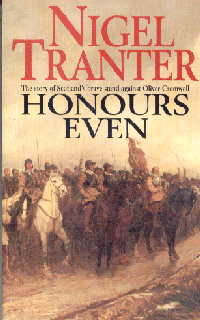 HONOURS EVEN
Nigel Tranter, Published by Hodder and Stoughton, 1995
ISBN 0 340 62583X
The following details of the story are taken from the book jacket.
The action of this book is set Circa 1650 to Circa 1654.
" I say that this is Christ's kingdom before it is Charles Stewarts!"
After the execution of his father in 1649, Charles the second left his exile in the Netherlands and sailed to Scotland. Arriving at the small fishing village of Garmouth, the young throneless king was a refused permission to land until he swore to the ministers of the Kirk that he would up hold their covenant - which renounced everything he believed in. The would - be King was in no position to refuse.
Looking on in horror at this event was fervent royalist, Jamie Ramsey, a second son of the Baron of Arran , who, at the eighteen was only slightly younger than Charles himself.
Charles was to remain in Scotland for a year, learning more about his northern subjects, as the English tried to adjust to life under the puritanical heel of the Lord Protector, Oliver Cromwell.
However, Cromwell was soon to turn his sinister attentions to matters of north of the border. In particular he coveted the Honours of Scotland - the crown, sceptres and sword of state - symbols of hope and the nation's honour. Jamie Ramsey amongst others was forced to fight to ensure that the honours were saved.
Packed with action and absorbing historical detail, Nigel Tranter's story is a compelling tale of intrigue and treachery, of courage and faith, of danger and a romance.

RETURN VIA BACK BUTTON