Click to subscribe to nigel-tranter-books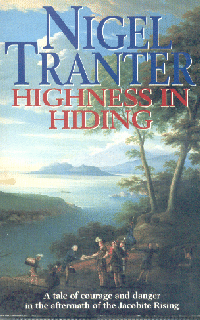 Cover painting detail. French school, Prince Charles Edward Stuart landing on Eriskay, 1705 © Sothebys/e.t.archive
HIGHNESS IN HIDING
Nigel Tranter, Published by Hodder and Stoughton, 1995
ISBN 0 340 62585 6
The following details of the story are taken from the book jacket.
The action of this book is set in 1745.
Nigel Tranter's new novel is published to coincide with the 250th anniversary of the Jacobite rising.
The quashing of the Jacobite rising of 1745 saw an end to the ambitions of the exiled and ancient royal house of Stuart to regain the throne. But following their victory at, Culloden, near Inverness, the combined might of the English government, army and navy strove unsuccessfully to apprehend the young pretender Prince Charles Edward, otherwise known as a Bonnie Prince Charlie.
For six extraordinary months the handsome and dashing Prince, often starving, sometimes barefoot and in rags, ranged the Western Highlands and the Outer and Inner Hebrides, hiding, lurking, fleeing.
Despite the dire threats of punishment to all who might aid and abet the Royal fugitive, he was hidden by brave and trusted supporters, each of whom could have betrayed him for the massive £30,000 reward offered by the English for information leading to his seizure
This story stands as a great tribute to the loyalty and staunch courage of the Highland clansfolk.

RETURN VIA BACK BUTTON