Click to subscribe to nigel-tranter-books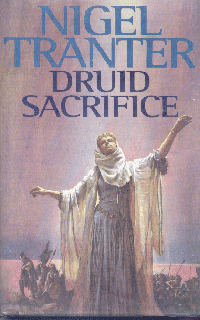 DRUID SACRIFICE
Nigel Tranter, Published by Hodder and Stoughton, 1993
ISBN 0 340 58699 0
The following details of the story are taken from the book jacket.
The action of this book is set Circa 518 to Circa Mid 6th century.
Thanea, Christian and daughter of the sixth century pagan King Loth, who gave name it to Lothian, was niece to the great King Arthur as well as Sister to Gawain. Persecuted for her Christian faith, Thanea's miraculous survival of the dire punishments her father and his Druid advisers inflicted, challenged both Druids and Christians alike.
In an attempt to seal her fate, the Druid priests set her adrift at sea in an oarless, coracle as a sacrifice to the sea god, Manannan. However, a more active, if not always easier, fate awaited her when she was washed up in Fife and taken in by the famous St Serf at the monastery at Culross.
This action packed, and romantic novel shows Nigel Tranter writing as only he is able, bringing centuries-old history to life in the hills of Scotland as though it were happening today.

RETURN VIA BACK BUTTON