Click to subscribe to nigel-tranter-books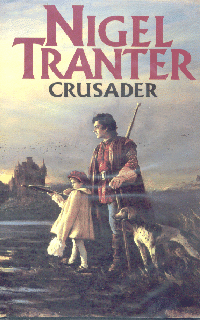 CRUSADER
Nigel Tranter, Published by Hodder and Stoughton, 1991
ISBN 0340 55897 0
The following details of the story are taken from the book jacket.
The action of this book is set Circa 1249 to Circa 1258.
Alexander III had succeeded to the throne of Scotland at the age of seven. The ambitious lords of Atholl and Comyn fought for the right to guide his minority and extend their own power on one side of the border. On the other, Henry the Third of England never ceased to seek opportunities to reassert his claimed paramountcy over the kingdom of the boy who, at the age of ten, was married off to his daughter.
Through the shoals of power politics, dynastic marriage and the more natural hazards of lively adolescence, one man stood by the young monarch and sought to guide him on the path of kingship and manhood. This was a David de Lindsay of Luffness Lothian, who taught him to hunt wild geese in Aberady Bay, and how to comport himself as a fellow sovereign in the presence of his predatory English father and law.
The story of Alexander's minority takes David and his Royal charge back and forth across Scotland for more than hunting forays,; from the Parliament at Roxburgh to the prison like confines of Edinburgh Castle, whence an ingenious escape has to be devised. It follows the canonisation of Queen Margaret, Scotland's first saint ( not to mention the place-seeking behind this piece of piety), and the attempt to establish the border between Scotland and England.
Nigel Tranter brings both the rolling border country of Scotland and its tortured history marvellously alive through the education of an inquisitive small boy who was to grow up as heir to both the glory and the heartache of being King of Scots.

RETURN VIA BACK BUTTON