Click to subscribe to nigel-tranter-books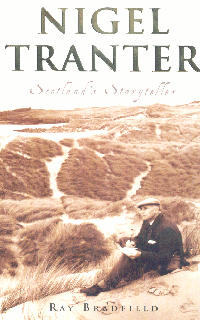 Front cover Nigel Tranter's at Joveys Neuk, Aberlady Bay, East Lothian.
NIGEL TRANTER
'SCOTLANDS STORYTELLER'
Nigel Tranter, Published by B & W Edinburgh, 1999
ISBN 1 873631 98 7
The following details of the story are taken from the book jacket.
Nigel Tranter's name is familiar to millions all over the world thanks to the phenomenal success of his best-selling novels. Historical epics like the 'Bruce trilogy' and the 'Wallace' established his reputation as one of Scotland's most popular and widely read authors. But while his novels have brought much of Scotland's history to life and shed new light on the lives of many of the nation's greatest historical figures, his own remarkable story has remained untold.
Now, to celebrate Nigel Tranter's ninetieth birthday, Ray Bradfield has produced the definitive biography of this unique author. Written with Tranter's full co-operation, 'Scotland's Storyteller' is an absorbing account of his life and work - from his childhood in Glasgow and Edinburgh and his ambition to be an architect, through the years as a struggling writer just after the Second World War, to his involvement in the campaigns for the Forth Road Bridge and Scottish Parliament, and his eventual success as an acclaimed Scottish novalist.
Full of fascinating insights into Tranter's highly individual approach to writing and the background to the creation of his many best sellers, 'Scotland's Storyteller' is a fitting tribute to an author who has so far produced more than one hundred novels and whose passionate enthusiasm for Scotland and its history shows no sign of waning as he enters his tenth decade.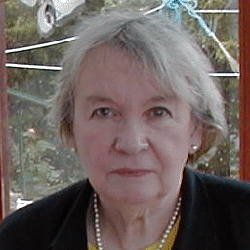 Ray Bradfield
Author of 'Scotland's Storyteller'
Ray Bradfield was born in Scotland in 1932, grew up in Fife and was educated at St Leonard's School and St Hugh's College, Oxford. She joined the Home Civil Service from university and spent two years working in the Gorbals in Glasgow as one of her Majesty's inspectors of taxes, before marrying a Swedish businessman and moving to Stockholm. Her first marriage ended in divorce and she subsequently married an Englishman, also settled in Sweden, who known as an undergraduate at Oxford. She was widowed in nineteen eighty nine. After thirty six years in Sweden, where she worked for the Foreign and Commonwealth Office as political adviser to successive British ambassador's, she came back to her native Scotland in 1992 and now lives in East Lothian. She was appointed an OBE in 1993, and is currently completing ten years worked on an official translation of the Constitutional Documents of Sweden for the Swedish Parliament.

RETURN VIA BACK BUTTON