TRANTER GATHERING

Held at Dirleton on the 13th August 2000

Move curser over Nigel's drawings of Luffness Castle when page is fully loaded.
AROUND TRANTER COUNTRY (3)
ATHELSTANEFORD
The village where Nigel and May were married on the 11th July 1933.
---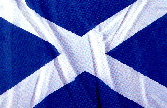 THE STORY OF THE SALTIRE.
When the Picts and the Scots fought the Northumbrian King, Athelstane in 832 A.D. a saltire cross appeared in the cloud formation overhead. The resultant legend has it that this is the reason why St Andrew, whose colours and cross these were, was adopted as the patron Saint of Scotland. Nigel tells of the emergence of the Scottish nation in 'Kenneth'.
The saltire is truly the 'flag of the people' of Scotland with the lion rampant being strictly the royal standard.
---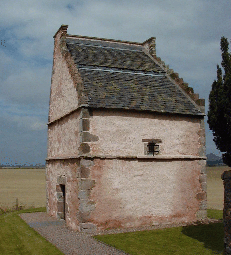 The Doocot
Nigel was instrumental is setting up the present display of the saltire and thereby keeping alive the traditional legend.
In her biography of Nigel Ray Bradfield describes Nigel's involvement with Athelstaneford in the 1960s on pages 103/4. She says

" It is thanks to Nigel Tranter that the blue and white Saltire of Scotland flies day and night over the village where it was born, for it was he who was instrumental in setting up the flag fund in the 1960s and establishing the Flag Heritage Centre in the doocot behind the kirk."
---
The Kirkyard
Ray continues. --- " In the kirkyard stands the Saltire Memorial, with plaque, designed by Nigel's best man Eric Stevenson, depicting the scene. It is a windy spot and they get through two flags a year, selling the tattared remnants to sentimental tourists to take home with them to Canada or the United States".
UPDATE 2002
A seat, in memory of Nigel, has now been erected on the site at Athelstaneford. The picture, below, is reproduced with thanks to Rory, one of our list members.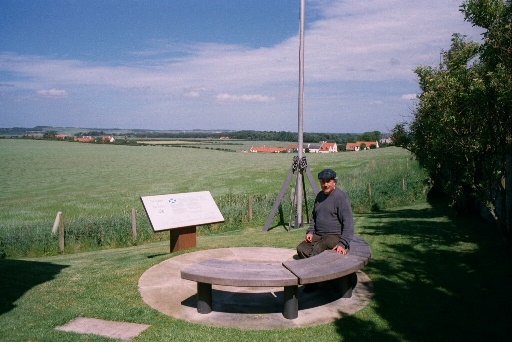 NOW YOU HAVE TWO CHOICES
Return to Toby's Travels

OR
Go directly to the main LINKS PAGE for the Tranter web site

---