The celebration of the life of Helen

The following, written by Helen, was read by the chairperson of the Falkirk Writers Circle,
at our service on 03/03/03 to celebrate Helen's life.
A SHINING DAY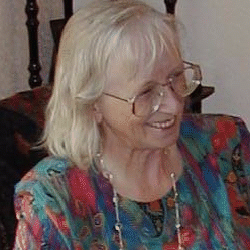 The day was grey, the wind was chill.
It cut through me like a knife.
I watched out of the window
Feeling glum,
Wrapped up in a blanket of misery,
Head blocked with wraiths of catarrh,
Death slapped onto a platter.
From out bleary eyes I saw them come.
Two snails slowly moving nearer-
An elderly man , and , by his side
A woman , even older.
Not aged by years, but rather pain
Had etched her old and frail.
His hand held fast their shopping bag
His other held her arm
As gently guided on she moved.
Home to cosy warmth.
They stopped.
He put down his load
His hand it held her still,
And turned her round to face him.
He took a hankie from his coat and gently wiped her nose,
She waited, watched and smiled a shade.
It was a sight to see-
A moment blessed.
With joy.
With love.
A treat for me to see.
The day now shone, as they went home.
It shone for them and me.
Helen P. Cunningham 2002

THE STORY OF THE TWO RINGS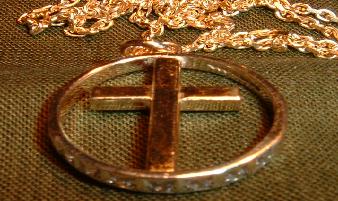 Just after Helen died the hospice telephoned to ask what we wanted done with her two rings. Her three girls, we were both married before, asked why she had two rings and as I was the only one who knew the story of the two rings I shared it with them.
When Helen married the girls father, George, she made a vow to love 'until death us do part' and for both of us such vows are sacred. Although she could not keep that vow, in real life after the divorce, she did keep it symbolically by wearing George's ring right up until the time that it was removed by the hospice staff. By then it had fulfilled its purpose.
I asked her girls if they wanted George's ring but, as he had shown absolutely no interest in them in almost 35 years they told me to do what I wanted with it.
Now the second ring that Helen wore was the one that I gave her 24 years ago when we married. As she already wore a 'wedding ring' I gave her an 'eternity ring'. My promise to her being greater than 'until death us do part'.
I then came up with the idea of combining the two to wear as a pendant and in so doing to totally alter the symbolism of George's ring. I discussed the melting down of George's ring and having it re-formed as a cross set within the eternity ring and with an attached ring so that I could wear it for my lifetime around my neck and close to my heart.
Yesterday the finished article was collected and I am very pleased with it. All in all it is something that the family will treasure as, at my passing, it will go to Alison, the oldest grand-daughter on Helen's side of the family, to be kept, worn and passed down to succeeding generations with a copy of this story explaining why it is precious beyond its monetary value.